Scott Sigler – They're Ba-ack. '80s Horror Movies Rise From The Dead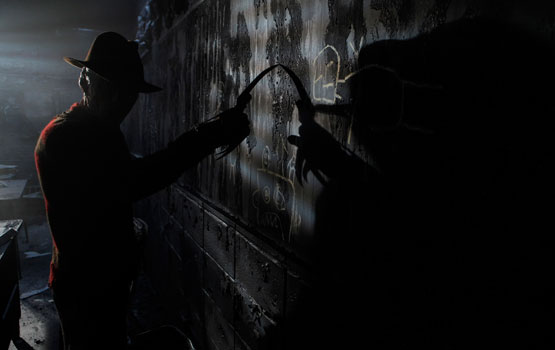 On April 30, the new
A Nightmare on Elm Street
hits theaters, the latest outing in a series of 80's horror franchise rebirths. Freddy Kreuger is back, Jack, along with a parade of other 80's slashers that have risen from the grave in a zombie-like wave of cinematic undead.
I have to take a moment to talk about the new Freddy, actor Jackie Earl Haley. I could not be more thrilled to see an actor with such an amazing history get this iconic part. Early in life, Haley had roles in some classic movies like The Bad News Bears and went on to guest-star on shows like The Love Boat and MacGuyver. Most recently, he's reclaimed the spotlight as a chilling Rorsharch in Watchmen, and now has the iconic role that Robert Englund made famous. Can Haley top Englund? No. Can Haley do his own kick-ass version of Kreuger. Absolutely, and I can't wait to see what he does with the part. Sure, it's a nostalgia money-grab, but dammit, the Nightmare trailers look kick-ass. I'll be there to watch it, and crossing my fingers that Haley and director Samuel Bayer can capture some of the magic from the original series.
So, where are Freddy's best buds from Horror High's Class of '88? Read on…
Home of the Detroit Red Wing's goalie
mask that arguable kick-started the entire slasher genre, this puppy
came back with a vengeance. Out in 2009, the remake cost $17 million to
create and has raked in $90 million worldwide to date. You would think
those numbers dictate a second film in the reboot, but it seems that
Part II isn't happening, at least according to the latest reports.
Rob
Zombie's take on this is loved by many, hated by many. Michael Myers is
a horror staple, and the masked killer is synonymous with horror. The
movies did well in theaters, with the Halloween remake making $77
million worldwide and the remade sequel (a re-sequel?) pulling in $40
million. Apparently that's not enough to greenlight a third film
though. Zombie dropped out of a third flick, which was then slated to be
written by Patrick Lussier (who directed the remake of '80s horror
flick My Bloody Valentine 3D) and Todd Farmer (the little-known
writer of #1 box-office flicks The Messenger and My Bloody
Valentine 3D). Sadly, that effort has stalled, and production has
been halted.
Come on, Hollywood! If you're going to re-heat cheese and serve
it to us as gourmet grub, I want the classic Limburger of them all —
Chucky! And, yes, it looks like this one is in production (
according to IMDB.com
).
Apparently, this remake is written and directed by Don Mancini, who
wrote the original 1988 piece-of-awesome version. Mancini also directed
Seed
of Chucky
, so he's no newbie. It would be a blast to see the
original creator get a chance to re-do his work as both writer
and
director. Hey, whatever it takes to get more nacho-cheese one-liners of
death.
A classic for horror fans alive and kicking in the 80s,
this one is practically unknown to anyone born after 1985. Yep, you
guessed it, a remake is in production. Tapped to direct is Craig
Gillespie, director of Lars & The Real Girl. How will that
schlock-fest introspected "let's discover what's real in life through a
movie" fare translate into straight-up vampires-next-door horror/comedy?
I have no idea.
And What Ever Happened
To…

A Candyman remake was rumored back in 2008, but
nothing seems to have surfaced. Also in the works: Little
Shop of Horrors, It, Monster Squad and more. And if
there's an 80s remake you're dying to see (or one that is being made
that should have stayed dead), no worries — it's only a matter
of time.
Read More