Uncategorized
Q&A – The Runaways' Kristen Stewart and Dakota Fanning Talk Music, Tattoos, and (Yes) the Kiss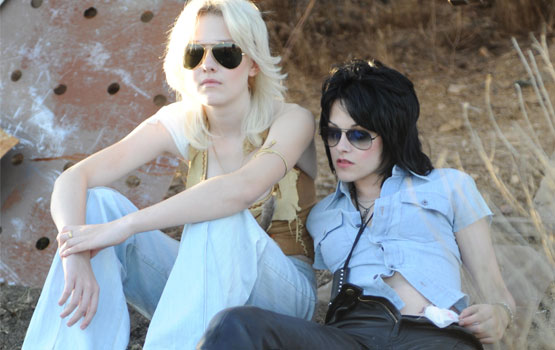 The Runaways may not have been the very first all-girl rock-and-roll band — but they were one of the first that mattered. Comprised of teenagers Cherie Currie on vocals, Joan Jett on rhythm guitar, Lita Ford on lead guitar, Jackie Fox on bass, and Sandy West on drums — at least in the 1975-1978 incarnation — the band becomes Dakota Fanning, Kristen Stewart, Scout Taylor-Compton, Alia Shawkat, and Stella Maeve on the big screen. Fanning and Stewart talk about how they became rock stars, with a little help from their real-life counterparts.
Q: So, Dakota, Cherie Currie said there was a moment you felt like it was fate intervening for you to get this role?
DF: Yes! I had a cherry temporary tattoo that I had put on for fun that day, and I came home from school, and my mom was reading the script, and she said, "You need to read this." I always try to get more information from her before I read anything, but she never tells me much — she doesn't want to bias my opinion — so the only thing she would say is that the girl I would play had a tattoo just like that, so I was like, "Wow!" It was just a little thing where it's a sign that it was meant to be.
Q: Did you get much help from Joan Jett and Cherie Currie to prep for the film?
DF: Cherie, the mike move she does during "Cherry Bomb"? She taught me that so I could do it, too.
KS: That was crazy. I had never seen that before. Yeah, they filled us in on little stuff that was probably random but gave us a sense of what it was like to live back then. It was good that they were around, we needed them to fill in the blanks, but we also saw the videos they've got of themselves when they were younger, so we got a lot from that.
DF: And they were in the studio with us. I was definitely nervous, but the only way to rerecord the songs would be if I had the voice to do it, so I was thrown in the studio and we recorded the songs, and that's what you hear in the movie. I thought I'd be recording them a bunch of times, not just the first few times and that's it. But that was probably good, because that's how they recorded them. They were just thrown in and just did it a couple of times.
KS: Joan was helping me be better at guitar. She's pretty good. She's got a really unique connection to the music, the way it comes out of her. She was telling me — and this is the only way to describe it, and I've said it before, but it's the only way that feels right — she says you have to fuck your guitar. I'm sorry, I don't know how else to say it! [Laughs]
Q: How did spending time with them help you develop your roles?
DF: I think when you know a character well, you know what to do. Cherie, she was a completely different person onstage than she was off stage. And still to this day, she's kept that vulnerability and innocence. And Cherie's become my friend, so that makes you want to be the best you can at this for them.
KS: Joan has no regrets, I know she doesn't, and that was huge to her. Everything in your life makes you who you are, and she's really loving life right now. I've never seen anybody walk into a room that completely confident, and she doesn't even realize that other people might not be like that, too. It's not overcompensations. She's not trying to be a certain way.
And to see them interact now, together, that was really helpful, too, because they turn into the people they were then, and they still really love each other. It's hard to describe. It's such a unique friendship and they relied on each other so strongly, and it's like you add a kiss to something and suddenly it makes it like, "Oh. My. God. They love each other and they are lesbians!" They kissed one night, no big deal. They're just really close.
Q: For some people, this might be their introduction to who the Runaways were and what they meant to rock and roll.
DF: I think probably for the younger audiences, and maybe that will lead them to go back and listen to the music or watch Live in Japan. I didn't know who the Runaways were when I first read the script.
KS: Oh, man. If we didn't tell this story right, since this is the version of the Runaways story that people my age would know about, that thought drove me crazy. When you care about something so much, it's scary. Usually if the movie isn't good or it doesn't turn out the way you thought, that's the way it goes. But this? We didn't have any other options. The guilt I would have harbored for the rest of my life? It would turn my stomach. It would be horrible.
Read More