Uncategorized
Q&A – Campbell Scott on Handsome Harry and His Secret Wish to Play a Sci-fi Action Hero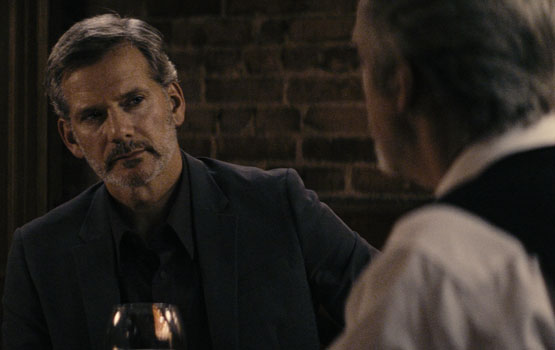 In Bette Gordon's new drama, Handsome Harry, Campbell Scott stars as the victim of a long-ago hate-crime attack perpetrated by a pair of Navy buddies — Tom Kelly (Steve Buscemi) and "Handsome" Harry Sweeney (Jamey Sheridan) — who are now seeking to atone for their sins. Harry, who was involved in a secret relationship with Scott's character, goes on a journey to confront the three other men involved in the crime, who are less than eager to acknowledge this ugly chapter from their past, and thus begins the revelatory tale. Scott talks about playing Sheridan's gay lover and what's next.
Q: You and Jamey Sheridan have known each other a long time?
A: Eighteen years? We did the play Long Day's Journey Into Night together, where we played brothers.
Q: So how do you go from brothers to lovers, as your characters are in Handsome Harry?
A: "From brothers to lovers" — that's a tagline, if I ever heard one! It's such a great part for him. He's amazing. I've directed and acted with him, and he deserves parts like that. It's such a quiet, brooding character. And it really is his movie, his journey.
Q: Handsome Harry was at Tribeca last year. This year, you have another film at Tribeca, called Beware the Gonzo.
A: Another film at Tribeca? What's wrong with me? [Laughs] Ezra Miller plays my son, and Amy Sedaris plays my wife. We're a weird family. Amy is really able to think off the wall, so she was fantastic in that part. Ezra's solid as a rock, and he really likes to play it loose and improvise his lines, but, if it's perfectly written, sometimes it's better not to.
Q: So which is the case in the next film you've written and directed, Company Retreat — do you allow the actors to improvise?
A: Well, I did write it, and, if I write it, I want to control it and I want the actors to say their lines. But that one is a totally different thing. I wrote it very quickly, and I didn't write it completely. I meant it almost as an experiment. There's a lot of nonactors, a lot of improvisation, and so it's a little crazy.
Q: How do you pick your parts? Are you fiercely committed to independent film, or are you ever tempted by studio films? What kinds of roles do they approach you for?
A: When did they ever approach me? [Laughs] If there were a great big-ass movie, I'd be there in one second. I don't think I'm on their radar, and the very few times that I am, I have lots of rules, personal and interior rules, that I'm not willing to compromise on, regarding my
schedule and my son and my life, and I couldn't be happier that way. I can't go away for a long time, so if I get offered a job, my first questions are, "When is it?" and "How long is it?" But after all that, the next question is whether it's something I've done before or not.
Q: So what kind of role would you like to do that you haven't
yet?
A: It'd be nice to be in some crazy science-fiction movie with
someone really brilliant behind it. I auditioned for Danny Boyle's Sunshine. And, you know, the first thing I ever directed, which I don't know if anyone saw, was a science thriller, called Final. It was like a Twilight Zone, with Denis Leary and Hope Davis. But the way to keep me interested is to keep me out of my element.
Q: What are you planning on writing or directing next?
A: Greg Mottola and I have been writing a ghost movie for ten years, and we're so close to being done, but we haven't worked on it in a while. It's not really like a ghost movie; it's more like Polanski's Repulsion, like a crazy Cassavetes thing. But it's getting weirder and weirder. I've got five scripts I'm working on, and I'm dying to finish one or for someone to get interested in one. Ideally, we'd all have financiers, someone waiting in the wings for us.
Q: Like your character on Royal Pains.
A: That's exactly what I need! An unreasonable amount of money. Does that exist? I don't know. [Laughs]
Read More