New on DVD – April 27, 2010 – It's Complicated and The Imaginarium of Dr. Parnassus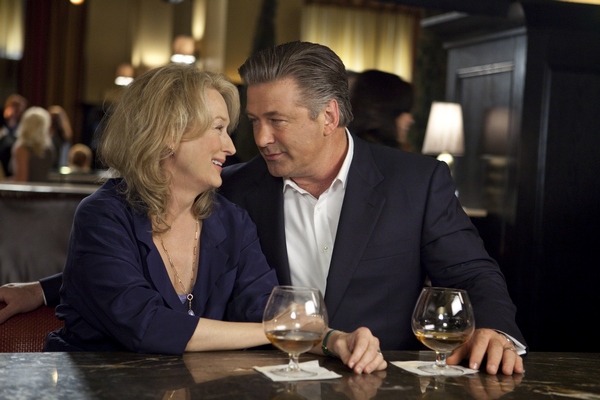 From Meryl Streep's love triangle with Alec Baldwin and Steve Martin to a Terry Gilliam fantasy that includes the final performance of Heath Ledger, here's a look at the movies coming out this week on DVD.
It's Complicated

In Nancy Meyers's latest romantic comedy for the older set, Meryl Streep plays a wealthy divorced restaurateur who sparks up an affair with her ex (Alec Baldwin), who has married a much younger woman. Streep enjoys the fling at first, but then gets confused once her architect (Steve Martin) starts displaying some interest. Though our critic liked that it was the rare film love triangle that was cast in an age-appropriate manner, this "overlong, overstuffed romantic comedy feels all too lazily formulaic to have much life left by the time it grinds to a close."
The Imaginarium of Dr. Parnassus

In Terry Gilliam's latest dark fantasy, Christopher Plummer plays the titular doctor, a sort of half-mad carnival barker who wanders about, enticing people to enter the worlds that lie behind his magic mirror. In his final performance, Heath Ledger plays a newcomer to the doctor's world who helps rope in new business. Ledger died during filming, after which Gilliam brought onboard Jude Law, Johnny Depp, and Colin Farrell to play different versions of Tony as he appears in the magic mirror. We liked the film's "elaborate yet ramshackle" sensibility, as well as its "playful trickery."

Disgrace

John Malkovich stars in this adaptation of South African author J.M. Coetzee's widely acclaimed novel as a cynical professor whose habit of seducing his female students finally catches up with him. Cast out from his university, he goes into self-imposed exile on his daughter's remote farm. There, after a brief period of serenity, a brutal attack by three black men opens up burning questions of guilt, racism, and vengeance. Although our critic thought the film meandered somewhat, he appreciated that the director "understands that searching for any solution to the wounds left open in South Africa is about as logical as trying to look at the back of your own head."
Banlieue 13 – Ultimatum

In this sequel to the 2004 French action-adventure that highlighted the acrobatic fighting style known as parkour, the residents of a blighted Paris slum have finally become fed up with being ignored by the government. Now it's time to fight back. Luc Besson, the mini-mogul behind such action franchises as The Transporter, produced this film, which we thought was "derivative if dopey fun."
Five Minutes of Heaven

In this drama, Liam Neeson plays a former Northern Ireland terrorist who cold-bloodedly gunned down a young Catholic while still a teenager. Years later, having recanted his misspent youth, Neeson is put together with the brother of his victim (James Nesbitt) by a TV producer hungry for some ratings-gathering tension. Our reviewer was initially intrigued by this film's ironic concept (the characters played by Neeson and Nesbitt are real people who have actually never met) but thought it deviated too far from the truth to be interesting: "The film is a fantasy but one that straps the moral weight of a half-century-old conflict to its back for street cred."
The End of Poverty?

This Martin Sheen-narrated documentary about Third World poverty takes a broad approach to its subject, covering the entire subject of colonial imperialism before examining how that legacy still reverberates today and what the potential fixes might be. Despite the worthy subject matter and parade of credentialed experts, our critic was distinctly annoyed by the film, saying it "cannot impress its own choir much less convert anyone new to its ideology."
Read More