New on DVD – April 20, 2010 – Avatar, Crazy Heart, and The Lovely Bones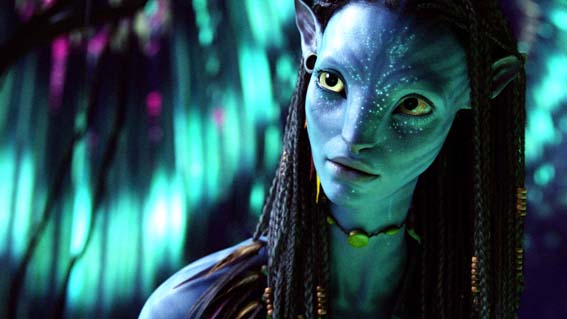 From James Cameron's groundbreaking 3-D science-fiction odyssey to the country-music drama that finally won Jeff Bridges his Oscar, here's a look at what's coming out this week on DVD.
Avatar

Roughly a decade in the making, James Cameron's first fiction film since 1997's Titanic not only broke box-office records; it also broke new territory in special effects. An epic adventure-romance set in the near future on a faraway planet where a former Marine must decide whether to serve his human masters or the planet's endangered aliens, the movie takes 3-D filmmaking to new heights. Our reviewer raved, "Everything about Avatar reminds us of the old cliché about movies being magic." (Available on April 22.)
Crazy Heart

Writer-director Scott Cooper's story about nearly washed-up country-music star Bad Blake (Jeff Bridges) isn't just about a man trying to escape the demons of his past; it's also a tender romance about a young writer (Maggie Gyllenhaal) who falls for the absolute wrong man. T-Bone Burnett won an Oscar for the music, and Bridges took home a statuette (his first) for the role of a lifetime. We were crazy about it, saying the "film packs a huge emotional punch, and captivates mercilessly."
The Lovely Bones

After finishing his Lord of the Rings trilogy, Peter Jackson turned to another literary phenomenon: Alice Sebold's novel about a young girl who narrates the entire story from beyond the grave after she's murdered. Atonement's Saoirse Ronan plays the girl, Susie, with Mark Wahlberg and Rachel Weisz as her parents and Stanley Tucci as the man down the block whom nobody suspects. We liked the performances better than the film itself, saying that while the actors "make The Lovely Bones a film worth seeing, they can't make it a film that cannot be missed."
The Young Victoria

Emily Blunt stars in this lavishly produced costume drama about Queen Victoria, who ascended to the throne while still a teenager. Rupert Friend plays her nervous, beloved Prince Albert, while Paul Bettany is Lord Melbourne, who seems to have ulterior motives for wanting to advise the young queen in her new job. The historical tale is written by Gosford Park screenwriter Julian Fellowes. Our reviewer thought it was too much of a commercial for the royal family, saying it was "well filmed [and] well acted, but propaganda through and through."
Summer Hours

In this finely detailed family drama from director Olivier Assayas, a far-flung family convenes at their sprawling ancestral villa in the French countryside to decide what to do with it when their mother passes away. Not surprisingly, everyone has different ideas and conflicting reasons for them. Juliette Binoche stars. Our reviewer found it an excellent piece of work, saying it "drifts, bounces, and ultimately comes down exactly where it wants to, like a well-rehearsed piano concerto."
44 Inch Chest

Malcolm Venville's debut film is another British gangster flick from the writers of Sexy Beast. In it, a group of five gangsters kidnap the waiter who has been sleeping with one of their wives. We thought that, though the quality cast of actors — Tom Wilkinson, John Hurt, Ian McShane, Ray Winstone – helped overcome the film's "initial inertia," it was ultimately "quick, simple, and forgettable."
Mammoth

A wealthy Manhattan couple goes through a crisis when the somewhat clueless techie husband (Gael García Bernal) goes off to Thailand on business, while his doctor wife (Michelle Williams) is frustrated to find that her daughter enjoys being with their Filipino nanny (Marife Necesito), who is having family problems of her own (not that her employers notice). We thought the film's tragic story lines worked powerfully sometimes and other times not so much.
Uncertainty

Joseph Gordon-Levitt and Lynn Collins star in this Sliding Doors-esque split-lives fantasy, in which the same two characters undergo totally different stories in parallel worlds. In one, they're running from a man who wants to kill them, and, in the other, they're having a deceptively happy day that turns tense because of family complications. We liked the way the relationships develop between the two leads, saying they "create a fully believable relationship, filled with little, minor conflicts, rather than big histrionics."
Cloud 9 (
)
In this powerful romantic drama, a 67-year-old woman who has been married for thirty years suddenly throws caution to the wind to take part in a torrid affair with a man almost ten years her senior. Our critic was delighted with the film's improvisational feel and raw emotional content, saying that it "lives up to Sam Fuller's infamous description of cinema itself: ' In a word: emotion'."
Read More