John Scalzi – Directors Don't Have to Be Sci-Fi Nuts To Make Great Science Fiction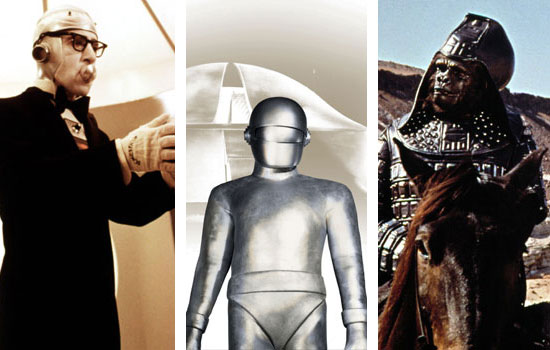 Certain directors have made themselves right at home in the genre of
science fiction — George Lucas, Steven Spielberg and James Cameron are three directors who come to mind for whom their science fiction films are their
cultural calling cards. But scifi flicks aren't only made by
specialists — some of the great films, in fact, are by directors who found their greatest fame outside the genre. Now, not every great director is a great fit for science fiction — see
Robert Altman's Quintet or Stanley Donen's Saturn 3 for evidence of
that — but for the curious, here's a sampling of the ones who were.
Franklin
J. Schaffner
Schaffner won his directing Oscar for Patton and made his
technical bones as an innovative television director who brought movie
techniques to the small screen in shows like Studio 90. But science
fiction fans know him as the director of Planet of the Apes, a directing
gig he got on the recommendation of star Charlton Heston, who had
worked with him on the historical drama The War Lord. Apes isn't
Schaffner's only sci-fi hit; he also went on to helm the creepy Nazi clone
classic The Boys From Brazil, with Gregory Peck. Don
Siegel
Siegel's enduring cultural legacy is as the director of tough, gritty
thrillers, and as the man who introduced the world to Clint Eastwood's
cop-on-the-edge in Dirty Harry. But that same propulsive,
no-nonsense sensibility got an early run-through in 1956 with one of the
science fiction classics of that Cold War decade, Invasion of the
Body
Snatchers, whose story has since been remade (officially) twice. To
give
you a sense of what a different time it was then, the total special
effects budget for Siegel's film was $15,000.
Robert
Wise
Wise
won his four Oscars on two classic musicals: West Side Story and The
Sound of Music, the latter so culturally successful that when you
adjust for inflation, it's the third highest-grossing film at the
domestic box office (behind Gone With the Wind and Star Wars).
Wise was also a
noted film editor, Oscar-nominated for his work on Citizen Kane.
In
science fiction, he directed three notable films, the best of
which was the first, 1951's The Day the Earth Stood Still. He
also
directed The Andromeda Strain, the first film based on a Michael
Crichton novel, and Star Trek: The Motion Picture, whose sloggy,
disjointed nature was not entirely Wise's fault, and which Wise would
later revise in a home video director's cut.
Woody
Allen
Everyone knows what kind of movies Allen makes: He makes "Woody
Allen movies," i.e., small movies driven by mostly neurotic characters, often set in New York but sometimes not, mostly comedies but sometimes not.
But Allen has also made one of the relatively few successful science
fiction comedies, and also one of the earliest: 1973's sci-fi spoof
Sleeper, in which Allen falls asleep in the 1970s and wakes up 200
years
later, and, of course, leads a revolution. The complicated (for Allen)
nature of the shoot made this one of the few times Allen went over
budget on a film, but since the budget was $2 million, and the film
grossed about ten times that in theaters, he got away with it.
Godard
One of the leading lights of the French New Wave of
cinema
playfully took a whack at science fiction with his 1965 film Alphaville,
in
which the future looked just like the run-down parts of 60s Paris, space
travel was performed by a standard Ford Galaxie, and the computer that
ran the world was some lights viewed through a fan. One fears to imagine
the $200 million Hollywood remake. (Directed by Michael Bay, no doubt.)
Sayles
As a director and an Oscar-nominated screenwriter,
Sayles is
best known for his character-driven stories and ensemble casts in
contemporary settings. His 1984 film The Brother From Another Planet is
a
perfect example of that sort of film — it just happens that the main
character, played by Joe Morton, is also a silent, fugitive alien
hiding out in Harlem. It should be noted that Sayles had some experience
with science fiction before Brother; one of his earliest-filmed
screenplays was the 1980 Roger Corman Star Wars rip-off Battle Beyond
the Stars — which features, as it happens, a surprisingly amusing
script.
Read More