Jaws and Halloween Are the Fright Stuff When It Comes to the Top Ten Horror Movie Scores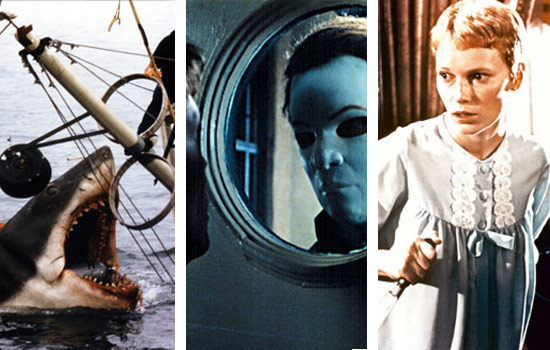 No horror movie is all about the score, but any fan will tell you that great music can bump a competent movie up a few rungs and transform a pretty good picture into a bona-fide winner. Now, it's easy to make folks jump by having a hulking monster in a human-skin mask burst out of nowhere, chainsaw all abuzz… but that's the equivalent of the score that suddenly bursts into an atonal scrum of crashing cymbals and off-key guitar chords. Eeeek!
To scare the bejabbers out of them with a deceptively lilting melody, well… that's like making a theater full of horror freaks tremble at the sight of a half-glimpsed shadow that's probably nothing more than a coat hung on a hallway rack. These ten scores epitomize the fright stuff.
10. 28 Days Later (2002)
Liverpool-born John Murphy took a cue from John Carpenter (more on him later) when he composed the score for Danny Boyle's genre-altering zombie pic 28 Days Later — and its sequel, 28 Weeks Later. Damned if the contrast between spare, keyboard-based melody and murderous onscreen chaos doesn't work like a charm both times.
9. The Exorcist (1973)
Progressive rocker Mike Oldfield's "Tubular Bells" wasn't written for The Exorcist. Longtime movie composer Lalo Schifrin was hired to do the score, but he and director William Friedkin clashed and the final soundtrack was pieced together from existing music and some original material by Jack Nitzsche. And you know what? No-one remembers anything but Oldfield's tinkling melody, which gradually gives way to the dark chaos of satanic possession.
8. Rosemary's Baby (1968)
Acclaimed Polish jazz musician Krzysztof Komeda began scoring movies for Roman Polanski when the director was still a film student, but never wrote anything better than the deceptively lyrical "Lullaby" he composed for Rosemary's Baby. That something so sweet could make your blood run cold is diabolical.
7. The Omen (1976)
Veteran movie composer Jerry Goldsmith won the only Oscar of his nearly 50-year career for this score, whose highlight is the Gregorian chant-on-acid chorus "Ave Satani" — that would be "Hail, Satan," if you didn't know.
6. Vampyros Lesbos (1970)
Spanish exploitation director Jess Franco stuck gold when he discovered the sexadelic acid-jazz, pop-lounge compositions of little-known German duo Manfred Hubler and Sigfried Schwab. They define the essence of the Euro-art/exploitation aesthetic: Funky, freaky, snappy, too-cool-for-words and just plain weird.
5. Friday the 13th (1980)
Producer-director Sean S. Cunningham is the first to admit that Friday the 13th was designed to cash in on Halloween's success. But Harry Manfredini's score is nothing like Carpenter's: It's built around eerie, echoing, reverbed whispers of "ki-ki-ki-ma-ma-ma," a subtle foreshadowing of the killer's identity. Oh, and that's Manfredini's voice, too. You could no more make a Friday film without it then you could make an Addams Family anything without Vix Mizzy's finger-popping theme.
4. Suspiria (1977)
Pop quiz: Sergio Leone is to Ennio Morricone as Dario Argento is to ________? Answer: The European progressive rock group Goblin. Fans can argue the finer points of their collaborations from now until doomsday, but the combination of Argento's candy-colored imagery and Goblin's insinuating score makes Suspiria one of the high-water marks of Italian horror.
3. Halloween (1978)
In addition to making a thinking person's slasher movie, John Carpenter composed a minimalist, keyboard-based score that rejects every cliché of the "scary music" canon as though it never even existed. It's the aural equivalent of a fleeting shadow glimpsed out of the corner of the eye rather than a sledgehammer to the forehead. Often imitated, never bettered.
2. Jaws (1975)
John Williams' shark theme — duh-nuh-duh-nuh-duh-nuh — throbs with so much menace you can feel it through the floor. It's barely a melody; more like the tremors of a reptile brain driving two tons of teeth and ravenous instinct towards the scent of blood in the water. Williams racked up a career total of 45 Oscar nominations and five wins, but the fact that he took home Best Music (Original Score) for what may be the most recognizable eight notes in movie history is proof that sometimes the Academy does get it right.

1. Psycho (1960)
When Bernard Hermann's father encouraged him to take up the violin, did he ever think his boy would torture the strings until they screamed like a dying woman? Probably not. But Hermann's nerve-jangling compositions for Psycho — one of many movies he scored for Alfred Hitchcock — are the pretty much the epitome of music that says what mere words can't. No award — Hermann's Psycho score wasn't even nominated for an Oscar — can compare to its influence.
Read More