Gunning for the Number One Spot – The Western's Best Jesse James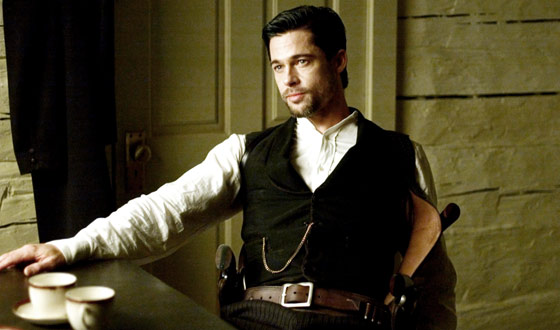 Folk hero or craven criminal? Like the West's other charismatic outlaws, Jesse James is portrayed as everything from a patron saint to a cold-blooded killer. Shot in the back by Robert Ford, after carrying out a series of hair-raising train and bank robberies, James remains a legendary figure of the Western genre. Which goes a long way in explaining why, from the 1900s to the present day, there've been no shortage of film portraits of him and his bandits. Here are the most essential portrayals, ranked from good to great.
10. John Lupton, Jesse James Meets Frankenstein's Daughter


Scholars debate this flick endlessly. Some even point to evidence indicating the involvement of the Wolfman. In any case, this odd horror-Western may not be historically accurate, but the premise is memorable. At the mercy of Frankenstein's demented heir, James (B-movie actor Lupton) has clearly dealt with worse foes than the undead. For his steely resolve alone, this decidedly unconventional James edges into the bottom tier. (Points for novelty.)
9. Colin Farrell, American Outlaws


James, action hero! Built for Ritalin-popping teenagers in the multiplex, American Outlaws is considered the black sheep of the James canon. Yet, it can also be seen as another facet of the legend. No other portrayal of James quite goes to this one's edge-of-your-seat extreme. Played by a young Farrell, James is less an outlaw than a good kid forced into seeking revenge when railroad thugs snatch his mama's land. In any event, the movie foreshadows Farrell's own bad-boy antics and provides a clever take on James.
8. Roy Rogers, Jesse James at Bay


Rogers made a lot of movies. Some good. Some mediocre. Some bad. Some truly awful. What makes this one different is that the singing cowboy plays a bad guy, at least by Rogers's standards. This James is a kinder, gentler version, with trusty sidekick Gabby Hayes by his side. Rogers also plays James's evil twin, who gets Jesse into trouble for crimes he didn't commit! For the double role and playing against type, Rogers earns his spot at number eight.
7. Rob Lowe, Frank & Jesse


If James were alive today, there's no doubt he'd feel snubbed for being left out of Young Guns. Perhaps in penance for that grave oversight, James got the Brat Pack treatment seven years later, as Lowe took on the role — sprouting a beard and practicing a cold stare. And he doesn't do a half-bad job playing James as a righteous vigilante. While robbing a train, he feels passengers' hands to tell if they're workers. If so, he gives them back their money. Well, bless your little heart.
6. Kris Kristofferson, The Last Days of Frank and Jesse James


Country-music stars and Westerns have a long history together. This flick features both singer-songwriter Kristofferson and the one-and-only Johnny Cash, as Jesse and Frank James. With plenty of cowboy songs and Kristofferson's starring role in Pat Garrett & Billy the Kid behind them, they're perfect for their roles. As the title indicates, this version takes on the final act of the James story. Kristofferson is an unassailable joy to watch in a rough-around-the-edges performance.
5. James Keach, The Long Riders


Baldwin family, eat your heart out! This bloody version of the James saga features not one, not two but three sets of real-life siblings playing siblings: the Carradines, the Quaids, and the Keach boys. One can just imagine the on-set antics during the film's shooting. Yet we can content ourselves with the fine performance by Keach as James, filled with the renegade spirit of the seventies. It's no surprise he knows the character so well — he co-wrote the movie.
4. Robert Wagner, The True Story of Jesse James


Wagner's James is an alienated, troubled young man. If that seems like a role meant for James Dean, that's because it probably was. Rebel Without A Cause's Nicholas Ray directed the movie, and the part probably would have gone to Dean if he hadn't died in his Porsche. A remake of 1939's Jesse James, it's more psychologically rich than its predecessor. Wagner adds a brooding intensity to his textured performance as the rebel gunslinger.
3. Brad Pitt, The Assassination of Jesse James by the Coward Robert Ford


This introspective, beautifully shot Western divided fans: some say it was lethargic and slow. Others called it nuanced and inspired. James is shown obliquely, from the perspective of his assassin, Robert Ford (Casey Affleck), which is one of two major decisions that make the movie so interesting. Another is Pitt — a movie star who's is perfectly cast as a celebrity criminal. Yes, it chagrins me to say it, folks, but here it is: Brad Pitt is good in this movie.
2. Tyrone Power, Jesse James


The James pic that started it all, by taking his story seriously and focusing on the relationship between James (Power) and brother Frank (Henry Fonda). It puts their tale in historical context, by examining the motives of the James banditry: postwar poverty and subjugation by northern industrialists. But what makes it work is the fatalistic turn by Power. This classic performance puts the movie in the number two spot, but only because Powers is slightly upstaged by Fonda. (Who wouldn't be?)
1. Robert Duvall, The Great Northfield Minnesota Raid


James is given the seventies anti-hero treatment in this ragged debut from director Philip Kaufman (The Right Stuff). There's an elegiac, end-of-the-road quality to the movie that focuses on the disastrous Northfield bank robbery that ultimately brought about the demise of the James brothers. Duvall's portrait doesn't aggrandize Jesse — he's a little brutal, a little dumb. In other word's, he's human. It's not flattering, but it adds complexity to a story that can tend toward the mythical. Mr. Duvall, that makes you number one.

Read More