When You're Looking for Big-Screen Terror, the Scariest Things Come in Small Packages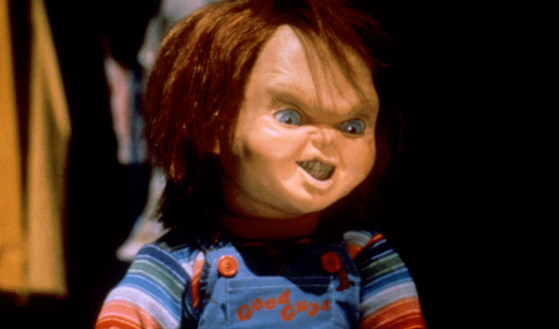 In the world of horror, respect equals fear, and, as much as anyone else, our height-challenged friends deserve respect and fear. Here's my ten favorite movies starring undersize terrors.
10. Chucky (Brad Dourif), Child's Play
He's technically an oversize doll, so he gets knocked down a few spots. But if this were the Top 10 Bipedal Primate-Shaped Things That Might Be Alive, Chucky would be first.
9. Midget, Trapped in the Closet
This urban opera, by singer R. Kelly, makes clear that you need to watch out for the li'l dude hiding under your sink: he's got a gat and you could be in for a serious beat down. If you haven't seen this, trust me when I say you need to — from start to finish.
8. The Oompa Loompas, Willy Wonka & the Chocolate Factory
The remake is tepid, but the original wee people — with their orange faces, green hair, and whacked-out overalls, who looked like backup singers for MC Hammer — scared the crap out of me.
7. Troll (Phil Fondacaro), Troll
Genre vet Fondacaro busted out some serious whoop in this 1986 flick. The movie also features a character named Harry Potter, who's immersed in a world of magicians and witches, eleven years before J.K. Rowling's first novel came out.
6. Belial, Basket Case
He's half a person, but he's definitely height challenged. He's also got that one-arm thing going on, which is disturbing. Never seen this? Move it to the top of the list: it's foundational horror.
5. Midget Zombies, The Return of the Living Dead
Zombies are scary. Child zombies? Scarier. Little-people zombies? Scariest. Don't believe me? Watch it.
4. The Living Torso (Prince Randian), Freaks
The Living Torso is a real player in this early horror flick, about sideshow performers. If you haven't seen it, do so — and prepare yourself for a seriously visceral reaction.
3. Zombie Dwarfs, Phantasm
These cats don't efficiently kill people, but they sure know how to bring the terror. They also turn in the fastest 40-yard-dash time in any horror movie.
2. Penguin (Danny DeVito), Batman Returns
It may seem mean to lump DeVito in with this crew, but anyone who's seen this movie will recall that he was incredibly diabolical in the role, killing with umbrellas and household items.
1. Leprechaun (Warwick Davis), Leprechaun
No contest: there's six movies in the series. In the fifth and sixth installments, the Leprechaun went to the hood. That's hardcore. He wears green suits and funky shoes and sports a red beard. His ability to scare the living hell out of Garth (from Wayne's World) is priceless.
I know I missed some of your faves, so leave a comment, if you'd like to have your li'l voice heard.

Read More