Web Stalker – Sarah Michelle Gellar's Possession Surfaces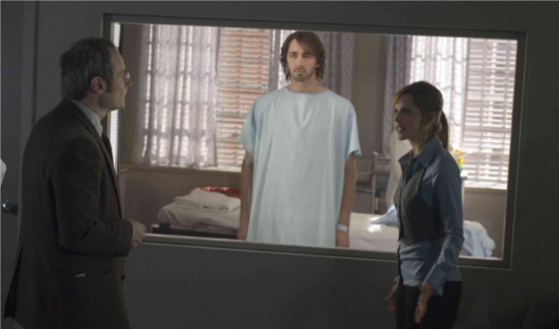 There was a time, not so long ago, when winsome Buffy the Vampire Slayer star Sarah Michelle Gellar was hotter than a rampaging fire demon, carving for herself a cozy little horror niche with remakes The Grudge, The Grudge 2, and The Return. There were even rumors of a Buffy feature (which never happened). Of the upcoming Gellar- and Joss Whedon-less reboot, the less said, the better. As for Possession, AWOL since 2008, it's slinking onto DVD with less fanfare than the average Asylum mock-buster.
Directed by Oscar-nominated Swedish filmmakers Joel Bergvall and Simon Sandquist, whose wrenching ghost story The Invisible was processed into teen-in-trouble pap in 2007, Possession casts Gellar as a woman whose nice-guy husband and creepy brother-in-law (Pushing Daisies star Lee Pace) are left comatose after a car crash. Only the brother-in-law wakes, but he seems to have absorbed his brother's personality. A remake of Korean director Park Young-hoon's Addicted, the movie went into production just as Hollywood's do-over craze was peaking. It was shot in Vancouver in 2007.
Variety reviewed Possession from the Cannes film market in May 2008 and noted that it was slated to open in the U.S. in October. After that, it disappeared, swallowed up in the wake of bankruptcy proceedings against its distributor, the debt-laden Yari Film Group Releasing.
Two years of ever-changing release dates followed, and the trailer got a cool reception. This exchange between HorrorMovie readers prddad and Suspiria_89 was typical: "I can't picture myself rushing to the theatre to see this….Seems everything [Gellar] has done since marrying Freddy Prinze Jr. has been sub-par." "She needs to stick with slashers….She makes an excellent victim." How the slayer has fallen!
Possession's stealth reemergence last week was greeted with acid-tipped skepticism; said one BloodyDisgusting reader, "Must be really bad if it sat on the shelf for so long." Hard to argue: if 20th Century Fox, which eventually acquired the rights, smelled a hit on the its hands, Possession would be coming soon to a theater near you, instead of to a bargain bin.
Die-hard Buffy fans are keeping the faith. One even said, on ShockTillYou Drop, "I have been waiting sooooo long for this movie. It's about damn time!!!!!!!!!!" But they are in the minority, and much of the sour discussion amounts to a referendum on Gellar's dwindling appeal. "[She] had charisma by the boatload on Buffy," sniffed Dread Central, "but as soon as she moved on to the big screen, she inexplicably left it all behind."
Beyond Hollywood was even nastier: "Will it be worth the wait?…I wouldn't hold my breath. Anyone who has [borne] witness to The Return knows just how boring Gellar can be." It gets worse: HorrorBid.com user Harv sneered, "Looks like a Lifetime original Horror flick to me. I could be wrong…[but] I think my wife would dig it more then me." And JoBlo reader SAI moved in for the kill. "This looks unspeakably sh*t."
So there you have it: will you run to get a copy of Possession or sit this one out?
Read More