Web Stalker – Pet Sematary Remake Sparks Catfight Among Fans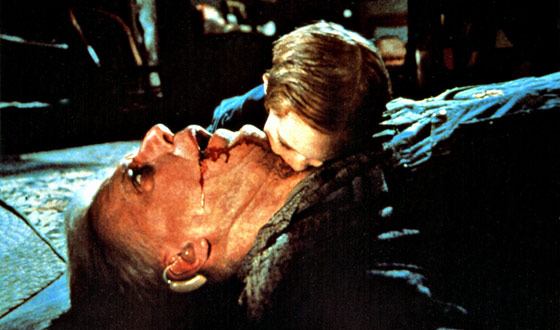 Pet Sematary Remake Sparks Catfight Among Fans" width="560″/>

Remember that vaguely creepy kiddie song in which "the cat came back the very next day"? The Stephen King movie about that cat is back: the long-rumored Pet Sematary remake is happening. Need a summary of how we got here? Here goes: back in 2003 — almost fifteen years after the original Pet Sematary and more than ten years after Pet Sematary II — BloodyDisgusting leaked word that Paramount was developing Pet Sematary III, from a script written in 1993, and that they were talking to Mary Lambert, who helmed both of the earlier movies. BloodyDisgusting reader RabidFulci's response sums up the general reaction: "I mean enough is enough, two Cemetery films by far were a waste of money….I hope these rumors ARE 'only' rumor…nothing more, nothing else."
In 2004, more information leaked: Paramont was apparently developing a remake, with Face/Off writers Mike Werb and Michael Colleary. Dave Kajganich (The Invasion) was later added to the lineup. Talk that George Clooney was interested in starring seemed less credible, but, in 2006, BloodyDisgusting reported that they had "100 percent confirmed it as true."
Cinematical was delighted. "Get this wild piece of intriguing yet totally unexpected casting news: will the ultra-cool George Clooney be stepping into the role made famous (okay, not so famous) by Dale Midkiff in Mary Lambert's Pet Sematary?…We've been hearing rumblings of a Pet Sematary remake for a little while now, and if the remake now has George Clooney as its anchor, well jeez, my opinion of the project just skyrocketed." Clooney's camp denied that he was interested, and the rumors died down.
Until last week, when Paramount announced that they'd hired Matthew Greenberg, who scripted Halloween H20: 20 Years Later and 1408. "Why?" wailed the MTV Movie Blog. "[The original] Pet Sematary is a damn scary Stephen King adaptation….It was creepy, it captured the tone of the novel, and it told a good story."
Film School Rejects concurs: "Having not heard anything about the project for quite some time I figured the project was dead for good. Silly me….Mary Lambert's 1989 film of the novel is an under-seen horror gem as far as I'm concerned….It's a scary and at times emotionally devastating movie (and novel) and I really don't see how it can be improved."
The Orlando Sentinal's Movie Blog is less enthusiastic about Lambert's version. "The only recollections I have…are the spelling of its title…and a nasty little turn by Fred Gwynne — the former Herman Munster — in one of the supporting roles." They're jazzed about Greenberg's participation, saying, "For my money, 1408 was the best King big screen adaptation in ages, maybe the best since Carrie."
Some of the liveliest fan debate unfolded in response to JoBlo's wishy-washy assessment of the project: "Pet Sematary isn't exactly a great movie…[but had] two scenes that still scare the crap out of me over 20 years later….Let's hope that whatever Paramount is cooking up…they keep both of those things intact. And the person to address those concerns to would be Matthew Greenberg (1408), the newly hired writer who'll be working on adapting Stephen King's book for a new audience."
User Critic_h8er represented one extreme, enthusing, "Finally! A remake in the works of a previously-adapted (and brutally good) book that's worth being remade!" User Terminal_83 is opposed: "I always thought the Pet Semetary movies were terrible and overrated. I'm not entirely welcoming a remake since I think the story just isn't worth adapting again, but hey, not like that's stopping Hollywood." Finally, there is Screen Crave, who just doesn't care: "I'll admit that the little kid was creepy, but [the original] was such a B-movie….This remake doesn't interest me in the least."
That's where things stand. What's your take: should Pet Sematary be allowed to rest in peace or is there still life to King's story?
Read More