Uncategorized
The Movie List – Top Ten Grumpy Old Men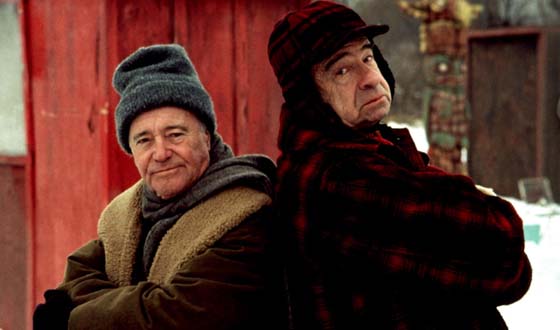 With its love of mopey vampires and singing high schoolers, movie studios are always catering to the American tween. But put down your smartphone, kids, because the geezers are coming: they're bold, they're old, and you'd better get off their lawn. Tonight, we count down the top ten grumpy old men.

10. Carl Fredricksen (Edward Asner), Up
Asner has won Emmys for playing a grouchy boss, but this time he's a crotchety widower who rediscovers his passion for life.
9. Max Goldman (Walter Matthau) and John Gustafson (Jack Lemmon), Grumpy Old Men
Long into their careers, Matthau and Lemmon took on roles as cranky senior citizens. This is their sixth movie pairing.
8. Grandpa Hoover (Alan Arkin), Little Miss Sunshine
This patriarch has a yen for profanity-laced tirades. The role won Arkin an Oscar.
7. Mickey Goodmill (Burgess Meredith), Rocky
Rocky's trainer is a crusty but lovable mentor. In the original script, he was a not-so-lovable racist.
6. Joe Cabot (Lawrence Tierney), Reservoir Dogs
According to director Quentin Tarantino, this badass mobster — in charge of color-coded thugs — was just as vicious offscreen.
5. Melvin Udall (Jack Nicholson), As Good As It Gets
Nicholson won an Academy Award for his role as Melvin Udall, a popular novelist who hates people.
4. Curly Washburn (Jack Palance), City Slickers
This leathery cowboy drops dead, but the producers brought him back in the sequel — as Curly's twin brother.
3. Walt Kowalski (Clint Eastwood), Gran Torino
As a disgruntled Korean War veteran with one prized possession, this old man won't win any Neighbor of the Year awards.
2. Mr. Potter (Lionel Barrymore), It's a Wonderful Life
The ruthless Potter gets away with embezzling eight grand and torturing one of Hollywood's most iconic actors, Jimmy Stewart.
1. Howard Beale (Peter Finch), Network
This American blowhard, played by a Brit, famously yells, "I'm as mad as hell and I'm not going to take this anymore!"

Read More