Interviews
Q&A – Ethan Hawke Calls Brooklyn's Finest the Kind of Movie That Made Him Become an Actor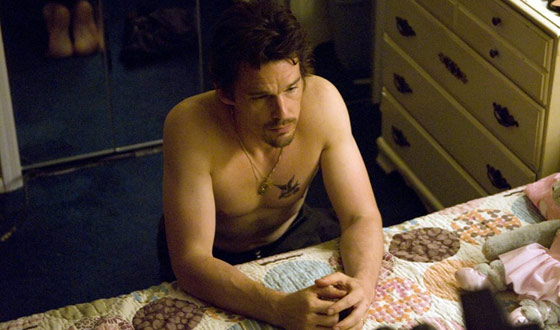 Brooklyn's Finest the Kind of Movie That Made Him Become an Actor" width="560″/>

Brooklyn's Finest focuses on three cops: one who is about to retire (Richard Gere), one who is undercover (Don Cheadle), and one who is struggling to get by (Ethan Hawke). Each of them gets what he wants, with a twist. Perhaps the most tragic is Hawke's Sal, who is tempted daily by the large piles of money he finds during drug busts. He dreams of buying a new home for his pregnant wife and their ever-growing brood, but the only way he can afford one, he thinks, is by committing a crime. Hawke explains what motivates his character and what motivates him as an actor.
Q: What was it like to reteam with director Antoine Fuqua?
A: We set the bar kind of high for ourselves, with Training Day, because we had such a great collaboration on that. The older I get, the more I realize how rare it is to meet a kindred spirit, let alone to meet a director who knows what they're doing. It's a thrill to work for them, and we had a good time together.
Q: When you did Daybreakers, you called that a B-movie. Do you feel like Brooklyn's Finest could have been a B-movie as well, in the wrong hands?
A: Daybreakers is a B-movie in the best possible way — it's a genre film. You know, when I made my first movie with Joe Dante, he was coming out of Roger Corman, and he had directed The Howling and Gremlins. So I was 13, 14 years old, being taught about movies by this guy who is a huge film fanatic, a film historian. He's got a Scorsese-Tarantino-like brain for movies. And he taught me why John Carpenter was brilliant. I did Assault on Precinct 13, which was a remake of an old John Carpenter movie, and I would say that's a genre movie, too. It's difficult to do a genre film well, and it doesn't matter if you're talking vampire movies or Dawn of the Dead or The Thing or Escape From New York. Those kind of movies, they understand what the old-school B-movie is supposed to be, they get the throwback of it. And they kind of embrace being a B-movie, and they're just the best version of that. But Brooklyn's Finest, this is the kind of movie that's why I want to be an actor, to tell real-life stories. This is where I feel my job is, to interpret life.
Q: So let's interpret your character Sal.
A: I met the real-life Sals. I saw where they live. The house we filmed in is a house that belongs to real police officers. So I didn't have to do imaginative exercises to figure out Sal. I think he's disappointed with his life. He's worked really hard, and he's tried to be the man he thought he should be, but his life still hasn't turned out the way he thought it should. He feels like he should be able to provide for his family. And his desire to be somebody he admires is so strong that it pushes him to the dark side. You know, when he confesses to his buddy that they're expecting twins — and that's his rationalization for doing all this bad stuff, he's got to support his family — his buddy's reaction is, "Congratulations. We can't have children." And that wasn't even in the script. Brian O'Byrne came up with that backstory for his character, that they're childless, so you'd see that it's all about point of view. Sal sees himself as a victim and thinks that's why it's okay to treat other people badly to get what he wants.
Q: He gets what he wants, but not the way he wanted it. Do you think he was going into it thinking that, either way, he wins?
A: That's the thing. You see where his mind-set is: "I'm worth more to my family dead than alive. It's a win-win. If I steal, we get the money. If I die, they get the insurance money." But he's forgetting that his kids will grow up without a father. He's missing the big picture. He's blind. He can't even see. And that's what happens to people. It's real life. That's what makes it feel like less of a portrait of an individual and more of a portrait of humanity.
Q: So once you understood that about Sal…
A: …then I was able to go inside this guy. And Antoine came up with this whole Bible metaphor, of how Sal is like Job, and that helped us. If you can understand the inner life, then you can wear the uniform, the tattoos, or whatnot and realize that the things that are different about us become superficial.
Q: Did shooting in Brownsville, in the projects, help in any way?
A: When I was 18, my mom took me to Haiti. The revolution had just happened, and she wanted me to see the extreme poverty there. It made Brooklyn look wealthy. I think for the people in Brownsville, watching us make the movie was inspiring. I felt it. Antoine turned our shooting there into something good for the community, and he was giving all these people jobs. And they saw the work that went into it. It's hard to make a movie. And it's even harder to make a good movie.
Read More