New on DVD, March 30, 2010 – Sherlock Holmes, An Education, and I Sell the Dead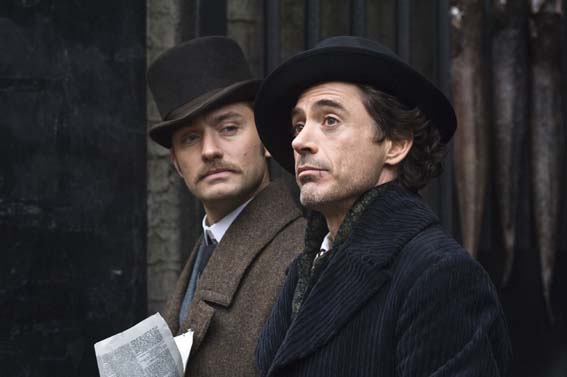 From Robert Downey Jr.'s modernized Sherlock Holmes to a poignant Oscar-nominated drama about a girl growing up too fast, here's a look at what's coming out this week on DVD.
Sherlock Holmes

Guy Ritchie delivers a pumped-up, adrenalized take on the classic Sherlock Holmes mysteries, with Robert Downey Jr. as the brilliant detective, Jude Law as his faithful sidekick, and Rachel McAdams playing a seductive con artist. We liked the film, particularly its flirty dialogue and buddy-flick aspect, calling it a "21st-century bromance that teems with combustible male chemistry." Watch it now, as a sequel is already planned for next year.
The Baader Meinhof Complex

Uli Edel's epic film traces the explosive rise and eventual disintegration of Germany's radical revolutionary cell the Baader-Meinhof group, which terrorized and also electrified the nation with kidnappings, bank robberies, and assassinations during the seventies. We said that "there's no ignoring Edel's epic vision, and the film, despite its muddled conclusions, is a fascinating and immersive work that never loses its kinetic pulse."
An Education

Based on the memoir by Lynn Barber, this Nick Hornby-scripted drama follows Jenny (Carey Mulligan), a precociously bright 16-year-old in sixties suburban Britain who rebels against her stifling parents by going out with an older man, David (Peter Sarsgaard). Mulligan received an Oscar nomination for her performance, which our reviewer thought was the best thing about the film: "Much like Jenny's baffled parents, the film doesn't quite know what to do with such a promising girl."
The Yes Men Fix the World

Andy Birchlbaum and Mike Bananno are the Yes Men, a pair of politicized pranksters whose gag in trade is impersonating corporate spokesmen as a way of satirizing the mentality of big business. In this 2008 documentary about their last round of pranks, they take on Enron, Halliburton, and Dow Chemical. We thought it was a "riotous reminder that patriotism is often misconstrued as troublemaking."
Alvin and the Chipmunks: The Squeakquel

In this follow-up to the 2007 surprise hit, the squeaky-voiced band of pint-size heroes enters a benefit concert to save their school's music program, and in the process run up against their biggest competition yet: the Chipettes. Our critic panned it, but admitted that "kids will probably enjoy The Squeakquel in the same sense that they probably enjoy commercials for breakfast cereal."
I Sell the Dead

Produced by and co-starring famed indie director Larry Fessenden (The Last Winter), Glenn McQuaid's feature debut is a low-budget horror comedy about a pair of grave robbers (Fessenden and Lost's Dominic Monaghan) who get more than they bargain for when they discover a body that's not quite dead. Our reviewer was not impressed, calling it "goofy enough not to be offensive, but . . . far too frantic to be anything enjoyable."
Read More