John Scalzi – Weighing the Oscar Odds for This Year's Sci-Fi Favorites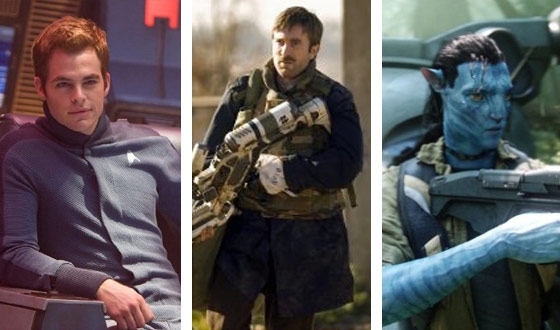 The Oscars are on Sunday, and the producers of the show are expecting a big viewership, thanks to an influx of fans tuning in to see how Avatar and District 9 fare. My suspicion is that this will be the biggest Oscar ceremony in a long time. Will science-fiction fans have reason to celebrate?
First, District 9 fans: remember that it's an honor to be nominated. When the nominees were announced, I opined that it had no chance to win Best Picture and was a very distant candidate for Adapted Screenplay. In the weeks since that prediction, there has been no measurable momentum for the movie. It's also up for Editing and Visual Effects: the latter's pretty much locked up by Avatar, and, in the former category, it's competing against Avatar, Precious, The Hurt Locker, and Inglourious Basterds. Not gonna happen. Look at it this way: no matter how you slice it, Neill Blomkamp has had a heck of run, and there's no doubt that District 9 is a classic.
If sci-fi fans want to feel bad for a movie, it should be…
…Star Trek, which is going to get stomped in the Visual Effects and Sound Editing categories. But Trekkies can hold out hope in the Makeup race, where the competition is little-seen Italian film Il Divo and Young Victoria. Nominee Barney Burman is part of a makeup dynasty: his father, Thomas, was nominated for Scrooged. (You might ask: why isn't Avatar up for Makeup? Lots of actors were blue all the way through. Answer: because their blueness was computer generated.)
I think Avatar's going to rampage through the technical categories. It will be an upset if it doesn't win Sound, Sound Editing, and Visual Effects. Likewise, it's a strong contender for Editing. (A bit of trivia: Cameron's first Oscar was in this category, as he co-edited Titanic.) Likewise, Art Direction and Cinematography. I've been assured by people who know more than I do that the technical aspects of Avatar's camerawork are pretty sophisticated. It's also a strong contender for Original Score, but I want that to go to Up's Michael Giacchino.
That leaves two categories: Director and Picture. All signs point to Cameron not winning Director. The buzz is for The Hurt Locker's Kathryn Bigelow, who recently won an award from the Director's Guild of America. It should be noted that even Cameron has been campaigning for her, noting on MTV and in other places that he thinks it's her year. The movie is undeniably worthy.
Avatar is still an excellent bet to win top picture: it's hard to ignore a film that brings in $700 million domestically and $2.5 billion internationally. Some of its major competitors — Up in the Air, Precious, and (one of my favorites) Inglourious Basterds — seem to have already peaked in terms of buzz. The Hurt Locker suffered a late-game hit when one of its producers sent an e-mail to the Academy begging for votes and denigrating Avatar — a no-no in the Oscar rule book. (These things matter.)
There's a very good chance that by the end of Sunday night the world will have its first sci-fi Best Picture winner. What will that mean for the genre? If it wins, my next column will cover that very topic.
Winner of the Hugo Award and the John W. Campbell Award for Best New Writer, John Scalzi is the author of The Rough Guide to Sci-Fi Movies and the novels Old Man's War and Zoe's Tale. He's also a creative consultant for the television series Stargate: Universe. His column appears every Thursday.
Read More