Hey, Kids! The Wimpy Kid and Bone Are Comic Book Movies Just for You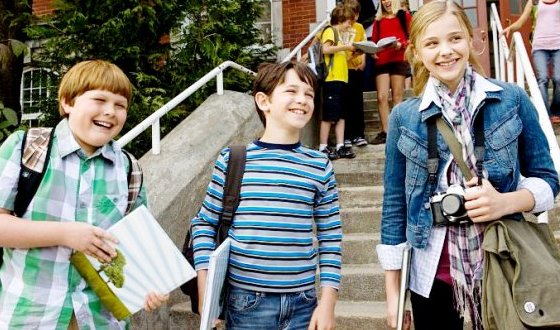 <img src="http://dev.blogs.amctv.com/wp-content/uploads/2010/03/diaryofwimpykid-560.jpg" alt="" title="Hey, Kids! The Wimpy Kid and Bone Are Comic Book Movies Just for You" width="560″/>

Here's something about Diary of a Wimpy Kid (which hits theaters Friday) that you might not know: it started life as a comic. And though the story is mostly known as a series of hit illustrated books, creator Jeff Kinney first introduced the world to the diary of a hapless junior-high kid named Greg via a popular Web comic.
The Wimpy Kid books have become a hit with all ages, thanks to their melding of cartoony artwork with witty tales of bullies, school plays, and other adolescent woes. With comic-book movies becoming increasingly dark, it's nice to see something that kids and parents can enjoy equally. There are many all-ages comic books out there that should follow Wimpy Kid to the big screen. Let's take a look at a few.

Bone
Combining artwork worthy of classic Disney animation with a sweeping story that calls to mind The Lord of the Rings, Jeff Smith's 55-issue comedic fantasy series is one of the most acclaimed comic books of all time. Young and old have discovered the comic, which regularly tops library lists of the best all-ages comics and graphic novels. Warner Brothers is currently developing a CGI take, with hopes of turning the series into a three-movie franchise. While CGI could be interesting, one look at Smith's artwork will make you long for the days when traditional hand-drawn animation was the norm.

Billy Batson and the Magic of Shazam!
DC Comics hero Captain Marvel (basically a kid who turns into a superhero by uttering the word "shazam") has been kicking around movie land for some time. The Rock was tapped to play villain Black Adam, but the family-friendly project was canned, when The Dark Knight came along and changed everything. It's a shame, because DC could use a fun superhero movie in the vein of Iron Man. Perhaps Mike Kunkel's hit comic — which features punchy art that wouldn't be out of place on the Cartoon Network — could help resurrect the budding franchise. Plus, who doesn't want to see Tawky Tawny, Captain Marvel's talking tiger pal, on the big screen? (And let's not forget Hoppy the Marvel Bunny. Boy, this is a weird comic.)

Lockjaw and the Pet Avengers
Marvel's recent hit series focusing on four-legged heroes could make for one hilarious animated movie. Featuring such pets as giant dog Lockjaw, X-Men dragon Lockheed, snooty pup Ms. Lion (from Spider-Man and His Amazing Friends), and a frog version of Thor, Lockjaw and the Pet Avengers has become a fan favorite for its tongue-in-cheek adventures and colorful artwork. Sure, the Pet Avengers might be a little too silly for Marvel's current blockbuster slate. But with the recent Disney-Marvel merger, family friendliness might become the order of the day.

The Life and Times of Scrooge McDuck
Before he was a staple of Disney cartoons, Scrooge McDuck was the star of many acclaimed comics by his creator, Carl Barks. While the stories created by Barks served as the basis for the popular Ducktales cartoon and a subsequent movie, the adventures of Disney's intrepid wealthy duck are due for a comeback. Rosa's graphic novel The Life and Times of Scrooge McDuck could serve as both a big-screen origin story and a pulse-pounding Indiana Jonesian adventure. Bringing Pixar onboard to animate Scrooge, Donald, and nephews Huey, Dewey, and Louie, in eye-popping 3-D CGI, could introduce the gang to a whole new generation.

Spider-Man Loves Mary Jane
If the Spider-Man brain trust at Sony insists on throwing Peter Parker back into high school for the upcoming reboot, they could do worse than to adapt Marvel's award-winning teen romance, which tells the tale from Mary Jane's perspective. Writer Sean McKeever turned Spidey and Mary Jane's formative years into the best teen TV drama that never was, while Takeshi Miyazawa's manga-influenced artwork was some of the most accessible superhero art in years. If Marvel is looking to spin off any of the Spidey supporting cast, a Mary Jane movie in the style of Twilight could be box-office gold.
Nick Nadel writes for places like HBO and Asylum.com and is the "geek" blogger for GuySpeak.com. Follow the "Comic Book Movies" column on Twitter.
Read More