Uncategorized
Flashback Five – The Best Movies of Cameron Diaz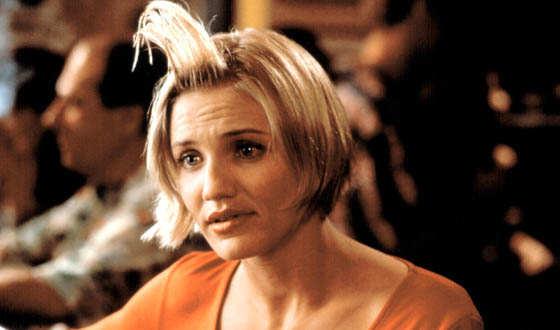 Do you remember when Cameron Diaz was just a fresh-faced young model, trying to make it in Hollywood? Yeah, neither do we. But we do know that this versatile actress is as comfortable with comedy as she is with drama — the rare case of a pretty face who's also more than pretty good.
1. There's Something About Mary (1998)
Her most iconic role. No compilation reel of Diaz's work would be complete without a clip of her hair sticking straight up in the air via an unconventional styling gel. Gags aside, Diaz gives a performance so charmingly hilarious that she merits being the focus of every man's attention, in the movie and the audience.
2. Being John Malkovich (1999)
Actors have a long history of making themselves ugly for roles, but few can pull it off successfully. Diaz is on that short list. Here, she plays the conniving Lotte, a funny part that ranks among her finest roles.
3. My Best Friend's Wedding (1997)
It's impossible to go up against Julia Roberts in a romantic comedy and come out on top. Or is it? Matching Roberts comic beat for comic beat, Diaz makes it clear that she is the best choice for Rupert Everett, despite Roberts's million-watt smile. If any movie cemented Diaz's star status, this was it.
4. Any Given Sunday (1999)
Speaking of holding your own, Diaz smolders in one of her first dramatic turns as the scheming owner of a football team, going toe-to-toe with Al Pacino, Dennis Quaid, Jamie Foxx, James Woods, and LL Cool J. Given how well she embodies soap-opera villainy, we'd love to see her take similar roles in the future.
5. Gangs of New York (2002)
To call Diaz the best thing about Gangs of New York would be a lie. That's Daniel Day-Lewis. But give the actress her due. She's awfully good here, too. More great directors like Martin Scorsese should give her a chance in period pieces. She's got the range for it.
Honorable Mentions:
1. Fear and Loathing in Las Vegas (1998) – It's just a short scene in one of Johnny Depp's craziest movies, but Diaz is perfect as a freaked-out news reporter.
2. A Life Less Ordinary (1997) – One of the more misunderstood movies in Diaz's filmography, Danny Boyle's black comedy is Natural Born Killers for romantics.
3. The Mask (1994) – This movie shows that Diaz is not just a looker, but also hilarious. She never lets Jim Carrey upstage her and wins your heart along the way.
4. Vanilla Sky (2001) – Skip the last fifteen minutes of this movie and Diaz's performance counts as the most terrifying ex on film since Glenn Close in Fatal Attraction.
5. Charlie's Angels: Full Throttle (2003) – Barely even a movie, McG's madcap sequel qualifies as transcendent Pop Art, the best part of which is human cartoon Diaz.

Read More