Web Stalker – Paranormal Activity and Saw Are Battling, Again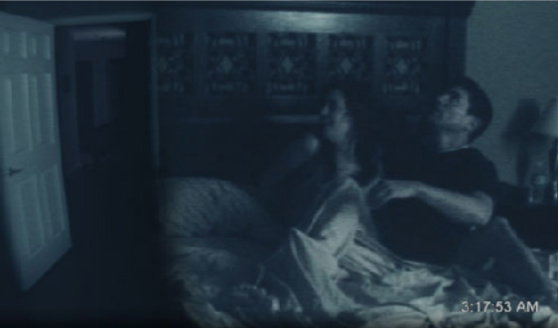 Last Halloween, Paranormal Activity, the low-budget horror movie of 2009, kicked the ass of big, bad Saw VI. What about act two? Or, more to the point: what about Paranormal Activity 2, the as-yet-unmade sequel? Having abandoned the original plan to remake Paranormal Activity as a studio feature, Paramount isn't about to write off a project with a cost-to-profit ratio that's the stuff of Hollywood dreams.
Early on, Paramount had a release date of October 22, 2010 — the same as that of the 3-D Saw VII. Clearly, a declaration of war. The overall response to Paranormal Activity 2, though, was less than enthusiastic. "I can't help but think this sequel is going to crush the subtlety of the first film," sighed Horrorsquad.com, summing up the prevailing mood.
Undaunted, the studio hired screenwriter Michael R. Perry (whose credits include TV's Millennium, Freaky Links, and The Dead Zone). Then, in mid-January, Paramount signed up director Kevin Greutert, of Saw VI, to helm the project. Oren Peli, the writer-director for the first Paranormal Activity, assured the Hollywood Reporter that "these guys get it, and the fans won't be disappointed." Skepticism reigned. "I find it a little odd that Paramount would bring in the creative team behind the least successful Saw installment to date," marveled JoBlo.com. "Say good-bye to anything decent about this [potential] franchise," Starseeker sneered, cynically.
Then came the bombshell: rumors surfaced that Lionsgate, home of the Saw franchise, was going to invoke a clause in Greutert's contract that allowed them to call him back for one more Saw. The gossip proved true: Greutert was forced to take on Saw VII, and suddenly David Hackl, previously announced as Saw VII's director, was out of work, and Paranormal Activity 2 was without a director. Greutert was one unhappy camper. Slashfilm captured a screenshot of an angry blog post: "I just had the task of telling my 83 year old mother that no, I'm not going to be allowed to direct the movie we were all so excited about when my family last got together….Yes, I'll be filming people getting tortured yet again."
"What does this mean for Paranormal Activity 2?" wondered Aint It Cool News. "My first guess is a big payday for Oren Peli to come back and pull Paramount's ass out of the fire. If they're smart, they'll save their money and go with Steve Miner. But if the studio wants to save face, they'll demand satisfaction the old-school way."
"I can't really feel anything other than relieved about this news," said MTV's Movie Blog. "If Paramount wants to keep the budget low, there are plenty of other filmmakers who would fit the bill nicely."
For now, Paranormal Activity 2 remains in limbo, while Greutert has begun the joyless task of shooting Saw VII.
What do you think? Should Paramount can the sequel? Or, assuming they go ahead, should they persuade Peli to take over or bring in a new director? If so, whom?
Read More