Web Stalker – Kate Beckinsale Returns to Underworld, But How Much of Her Will Fans See?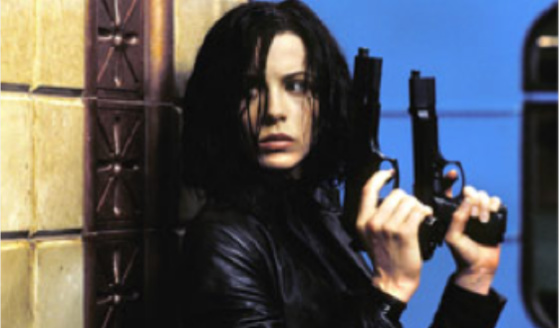 It's been said (by, er, us) that 2010 is the year of the werewolf. Though The Wolfman didn't exactly dominate the box office this past weekend, all signs indicate that those pesky monsters are still on the minds of Hollywood execs. Case in point: Underworld 4.
If you gave up on the Underworld franchise after the first installment (and, let's face it, some of us did), it bears remembering that, after Underworld and its 2006 sequel, Underworld: Evolution, proved that Kate Beckinsale could put butts in seats, directors Len Wiseman and Patrick Tatopoulos made the odd decision to film a prequel, sans Beckinsale, dubbed Underworld: Rise of the Lycans, starring Rhona Mitra. How did the fledgling franchise's fans react to the Beckinsale-free flick? I'm sure you can guess.
CinemaBlend summed up the popular opinion at the time: "It's hard to see how this could possibly be a good thing for the Underworld series, to ditch it's star and the only good thing about it in favor of new characters fans care even less about. Don't be surprised if Underworld 3 ends up straight to video." To be fare, that is the way these things tend to turn out. But then, surprise! Underworld: Rise of the Lyccans debuted at number one and went on to make almost $90 million. Naturally, as soon as the numbers were in, it was decided that another episode should be made.
In August 2008, Tatopoulos put fans' minds at ease, with the news that the installment would indeed go back to the future. The faithful instantly wondered whether their beloved Beckinsale would be back for the four-quel. "Interesting," mused DreadCentral, "though one has to wonder how interested [Scott] Speedman and Beckinsale would be to reprise their roles after a them-less prequel, no? Right now, all I care about is that the next movie is told from the perspective of the werewolves, which means effects man-cum-director Patrick Tatopoulos will be making the lycans bigger and badder. Never a bad thing, that!" Forum lurkers over at HorrorMovies.ca wondered whether there was even a place for Beckinsale and Speedman in the new sequel. "UW: Evolution did a good job of wrapping things up for [the] Selene and Michael characters….So I don't think a fourth one should be done," said one, echoing others. "UW4 would really have to start a new story line," agreed another.
The studio machine pushed ahead, but the Kate question lingered. In October 2008, ComingSoon nabbed an interview with the actress, in which she confessed, "I think they're still going, they probably will. I'm not sure I will….I feel like I've played that character enough times that I don't think I'd be excited to play the same character again. It's a weird experience. I've never done that before, you're playing the same character in two movies, and after two, I feel like I'm kind of done with that." That news led to a flurry of posts, like one at BeyondHollywood in which a possibly off-his-rocker blogger wrote, "Kate Beckinsale is a selfish women who hates men. If she really liked us, or cared about us just a little, she would slip the pleather back on and do some more werewolf fighting. Or just walk around the screen in that tight outfit. Either/or." Oh, you men and your pleather-clad anti-villainesses.
In an August 2009 chat with Collider about the prospect of her returning for Underworld 4, she said, "As far as I'm concerned, that's just a rumor at this time." Accurate words, those. But within the week, two sources had told BloodyDisgusting that Kate would be back. ("What does this mean?" the blog asked. "It means Kate-Beckinsale-in-pleather-in-mother-effin'-3D, that's what!" Did I forget to mention that? The next Underworld is getting the 3-D treatment. And it's rumored to be set in space. You can't make this stuff up.)
Beckinsale enthusiasts did the crazed will-she-won't-she tango for the next couple of months, and it was only last week when the world got the final word (via BloodyDisgusting): Beckinsale is in. BeyondHollywood was dubious: "Beckinsale may be contractually obligated to do a fourth movie, but she doesn't particularly care to do it. If Beckinsale says she doesn't want to do a fourth movie, let's face it, she's not going to do a fourth movie. So what does that mean? A blink and you'll miss cameo of Kate Beckinsale in skin-tight black pleather, most likely." Io9 was more optimistic, happily reminding readers, "One thing was seriously missing from the last Underword picture: Kate Beckinsale," before going on to conclude, "Vampires in space? We're in!" HorrorYearbook agreed: "Like a lot of people, I stopped watching the Underworld franchise after the first movie. So how can the studio get horror fans like me back in theaters to see a fourth film? By shooting Kate Beckinsale into space. If this is true, I'm so there!"
Naturally, there were naysayers. Pajiba.com seethed, "For those who haven't seen the movies, they suck. All of them….Don't delude yourself into thinking that there's a ravenous audience tapping their feet and hoping oh-so-much that there'll be another Underworld movie. Most people are just hoping to see Beckinsale's ass in leather again, and maybe see a big f!@#ing wolf tear someone's head off." No less than Perez Hilton, the movie historian of the decade, agreed: "Underworld 3-D is slated for a January 2011 release date, with Len Wiseman behind the lens and hopefully someone right behind him to scream. This is the end of the franchise. Seriously, it is time [Beckinsale] moved on to other things!"
What say you, horror fans? Is the (potentially fleeting) presence of Beckinsale in the next Underworld installment enough to get you out to theaters? Or is it time to move on to the next generation of werewolf-slayer porn?
Read More