Web Stalker – How Repo Men Went From Also-ran to Front-Runner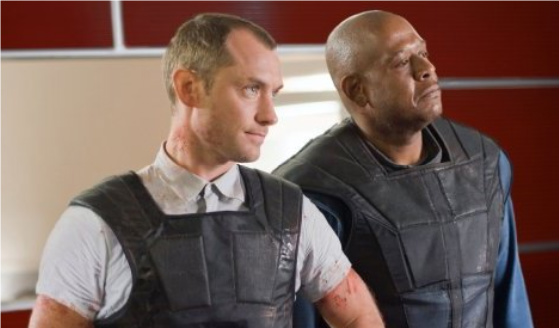 UPDATE: The following piece was revised by the writer, to clarify and correct some of her speculations.
Here's a lesson in how a savvy movie studio can take years' worth of bad buzz and use good, old-fashioned (okay, in this case, sort of newfangled) marketing to get naysayers to do a 180.
It wasn't that long ago when the upcoming thriller Repo Men — which stars Jude Law and Forest Whitaker as long arms of the law in a future where body parts are sold on credit and yanked back by force if the buyer misses a payment — seemed unlikely to make much of a dent at the box office. Now it's got serious juice. Universal first announced the project, based on Eric Garcia's novel The Repossession Mambo, back in 2003. The news would probably have inspired the usual love-hate commentary, had it not been for the fact that there was already another movie based on the same idea.
"Every so often, two films come down the pipeline with the same basic plot and smash into each other," reported io9. "In one corner, you have [Saw] director Darren Lynn Bousman's independent effort with Lionsgate, Repo! The Genetic Opera. Weighing in on the studio side is Repossession Mambo, from Universal." Same basic plot, two very, very different movies. Interesting coincidence, no?
Ain't It Cool News has a very good explanation of how it all went down. To wit: in 1997, Eric Garcia wrote a story called "The Telltale Pancreas," which he shared with special-effects pioneer Robert Kurtzman, who thought it would make for a good movie. Garcia instead chose to expand it into a novel, called The Repossession Mambo (the first draft of which was completed in 2000).
In 2001, Garcia met a TV producer who persuaded him to adapt the story into a screenplay. Thus Repo Men's long journey to the big screen began. Meanwhile, in an alternate universe, Repo! The Genetic Opera masterminds Darren Smith and Terrance Zdunich were putting on performances of their own, similarly-themed play, which they'd been working on since the late '90s. (Zdunich posted the evidence on his blog.) Despite the fact that the two works had much in common (and that the Repo! team beat Garcia to the punch, ever so slightly), there was no way to prove that one had influenced the other. A tricky situation.
Fast-forward to 2007: Universal announces Law and Whitaker as the leads in Repossession Mambo. At the time, Bousman was busily shooting his indie musical, which hit theaters in November 2008. Though most critics — not to mention moviegoers — failed to get with the program (Rotten Tomatoes has the movie's current approval rating at 33 percent), Repo! The Genetic Opera did inspire a fervent cult following.
For a while, we didn't hear much about Repossession Mambo (retitled Repo Men, the better to leave fans of a certain age wondering why someone had decided, 25 years later, to make a sequel to Alex Cox's bona fide cult classic), but that changed recently: a Repo Men trailer hit the Web in December and left a trail of hopped-up movie fanatics in its wake.
"At first, the new red-band teaser…seems like a tired old girl," mused FilmSchoolRejects. "Then, everything exploded into bloody mayhem….And now, I'm interested. The question is whether the final product will be more side A (boring) or side B (bloody awesome). Time will tell." EW's PopWatch concurred: "Based on this trailer, Repo Men actually looks like it has potential to be pretty fun, in a gruesome, blood-soaked way, with a darkly comic, satirical edge that harks back to movies like RoboCop and Total Recall."
Snazzily produced posters started popping up, and then promo material hit the Web: first came a site that offered clickers the chance to price out body parts in a simulation of the movie's icky premise. Bloggers were united in their love. "The site looks excellent," reported MovieViral.com. "It's not exactly an expansive site (as far as we know, there may be more to discover?)," said FirstShowing, "but it is pretty damn cool." Examiner.com trumpeted the news with a post titled "Universal Pictures launches awesome 'Repo Men' viral site."
Then the pièce de résistance: Wired and Universal announced a contest in which three lucky (unlucky?) contestants would be chosen to go on the lam, and, if they could last an entire month without getting caught, they'd win 10,000 big ones. "I'd do it myself if I didn't have a life to attend to!" responded Collider. The buzz is still building on this one, but, rest assured, you're going to hear loads of it in the weeks leading up to Repo Men's release, in March. In the meantime, check out Wired writer Evan Ratliff's riveting story about his own effort to disappear this past summer — and try to pretend your interest isn't piqued.
Read More