Uncategorized
Flashback Five – The Best Tom Hanks Movies You've Never Seen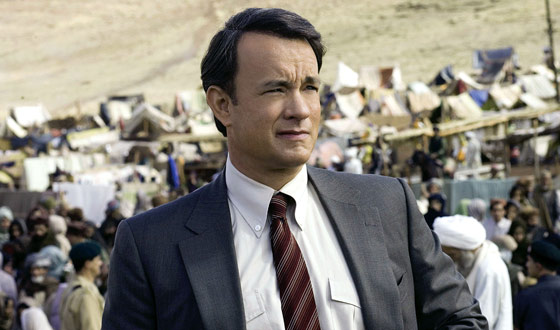 We'd bet you have to go pretty deep into the catalog to find a Tom Hanks movie you've never seen. As one of the most popular actors of our time, Hanks has managed to be all things to all people, a dramatic and comedic powerhouse. Even so, we're guessing you didn't get to the theater when these were playing.
1. The Ladykillers (2004)
A remake of the 1955 comedy, this film was savaged by critics and audiences alike, as a deplorable mess. But a few years down the road, opinions are changing, especially considering Tom Hanks's entertainingly bizarre Colonel Sanders-esque performance. We'd love to see him try more roles where he's not playing Everyman.
2. That Thing You Do! (1996)
Written and directed by Hanks, this engaging comedy about a Beatles-type group with one hit was praised by critics but ignored by audiences. Hanks did a bang-up job as the band's manager. All said, the movie's as catchy as its title song.
3. Joe Versus the Volcano (1990)
Known as the least successful Meg Ryan-Tom Hanks vehicle, this absurd romantic comedy was hurt by its ridiculous title. But if you like Hanks and Ryan in You've Got Mail and Sleepless in Seattle, you have no excuse for not checking this out.There's no shame in a bronze medal.
4. The 'burbs (1989)
Maybe the world still isn't ready for a black comedy starring Hanks. But when the world is ready, Joe Dante's flick will prove a gleefully demented treat that's better than the far more popular Gremlins. Hanks is the straight-man role, and he plays the role impeccably.
5. Charlie Wilson's War (2007)
With Mike Nichols directing, Aaron Sorkin scripting, and Julia Roberts co-starring, this should have been a slam dunk. For some reason, it wasn't. Regardless, the fast-talking drama perfectly balances Hanks's comedic and dramatic skills.
Honorable Mentions:
1. The Great Buck Howard (2008) – Doing his son Colin a favor, Hanks appears as, er, Colin's father and lifts the proceedings.
2. Radio Flyer (1992) – Years before Forrest Gump, Hanks nailed the narrator role in this sweet, nostalgic movie.
3. Punchline (1988) – Released on the heels of Big, this is Hanks's Funny People.
4. Volunteers (1985) – This Bridge on the River Kwai parody finds Hanks paired with John Candy. It's also where Hanks met wife Rita Wilson. Why haven't you seen it?
5. He Knows You're Alone (1980) – Hanks is so likable in a small part in this horror flick — his first movie ever — that the producers decided to cut his death scene. Oh, spoiler.

Read More