Tim Burton's Alice in Wonderland Inspires New Tracks From Avril Lavigne, Owl City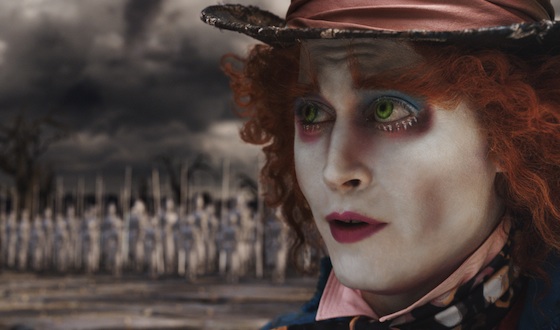 <img src="http://dev.blogs.amctv.com/wp-content/uploads/2010/02/alice.jpg" alt="" title="Tim Burton's Alice in Wonderland Inspires New Tracks From Avril Lavigne, Owl City" width="560″/>


The indie-rock-heavy soundtrack lineup for New Moon is so 2009. This year's first buzz-y film soundtrack is Almost Alice — a compilation of songs "inspired" by director Tim Burton's upcoming 3-D fantasy epic, Alice in Wonderland.
The film stars Johnny Depp as the Mad Hatter, Anne Hathaway as the White Queen, Helena Bonham Carter as the Red Queen, and newcomer Mia Wasikowska as 19-year-old Alice.
Almost Alice has sixteen songs — many based on characters in the upcoming film — from eclectic acts like All-American Rejects, Owl City, All Time Low, Franz Ferdinand, Plain White T's, and Australian rockers Wolfmother.
Most of the songs are originals, including "In Transit," a duet between Blink-182's Mark Hoppus and Fall Out Boy's Pete Wentz. The album also features covers, like Grace Potter and the Nocturnals' version of Jefferson Airplane's "White Rabbit," and "Very Good Advice" — performed by the Cure's Robert Smith — which was first heard in Disney's 1951 animated Alice in Wonderland.
The first single will be "Alice (Underground)," written and sung by Canadian pop punker Avril Lavigne. The song is Lavigne's first material in almost three years and will be heard during the closing credits.
According to a post on her Website, Lavigne wrote it after looking at stills from the film while doing research for her fashion line:
"I finished the song and [Burton] really liked it and said he wanted to put it in the film as the first end credit song. OMG soooo cool!"
Lavigne also shot a music video for "Alice (Underground)," which will be out soon. Almost Alice hits stores on March 2 — the same day as the film's original soundtrack album, featuring a score produced by Danny Elfman, who's composed music for Charlie and the Chocolate Factory, Milk, and Men in Black.
Alice in Wonderland, presented in Disney Digital 3-D™, opens in theaters on March 5.
Read More