Super-Suit Outfitters Help Olympic Athletes Perform Like The Incredibles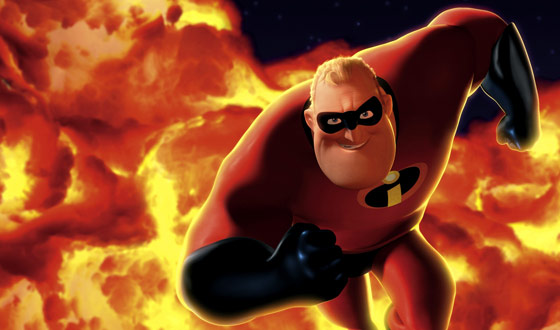 <img src="http://dev.blogs.amctv.com/wp-content/uploads/2010/02/The-Incredibles.jpg" alt="" title="Super-Suit Outfitters Help Olympic Athletes Perform Like The Incredibles" width="560″/>

If there's ever a time when superheros live among us, it's during the Olympics. Right now, athletes are donning spandex suits and showing the world what they're made of. Question: without The Incredibles' fabulous (and, unfortunately, fictional) fashion designer, Edna Mode, who's helping them with threads? Whom can Olympians turn to when they need to look and feel their best? Turns out, there are some designers making fabrics as fantastic as the people wearing them.
Spyder


To help skiers go really fast (like Dash), Spyder has created a new "slippery" race suit, made of three-layer bonded polyester, that reduces the coefficient of friction against the wind. Another high-tech advance, d3o, an engineered material with "intelligent" molecules, reduces padding volume by 40 percent and has the ability to flow with a skier moving down the course or lock together and stiffen should the skier fall (to absorb the impact). Spyder claims their super-suit could shave as much as a second off a racer's time. Both the U.S. ski team and Canada's alpine squad are donning Spyder's silky threads.
Descente


To help Canada's speed skaters glide across the ice as smoothly as Frozone did while escaping the Omnidroid, there's a new bodysuit from Japanese apparel company Descente. More aerodynamic than human skin, it's made from Thin Fit fabric that's only 0.3 millimeters thick. It might not be as fashionable as some of Edna's designs — "I guess that's all I care about, what they look like," jokes American skater Nick Pearson — but it is helping Canada's confidence. "A lot of it is mental," says skater Christine Nesbitt. "To feel like we have an edge because we have a really good suit can only help us."
Nando Timmer


The Dutch recently chose this assistant professor of aerodynamics' creation, over the Nike Swift Skin suit, which their speed skaters had worn for the past eight years. Don't expect Timmer to be talking about his super-suit any time soon. "The KNSB Dutch federation has ended the contract with Nike," he says. "That is all I am saying." Whatever they're made of, the suits are said to be adaptable to the size and style of individual skaters. If your stance is lower over the ice, for example, the back of the suit can be tweaked to hold the position better.
Recon Instruments


Masks are meant to protect a hero's identity, but what if they could also serve as a training tool? The Zeal Transcend goggle, used by Canadian Olympic snowboarders, does a lot more than provide cover. Like Iron Man's heads-up display, the goggles contain a full-color LCD — invisible while the wearer is gazing ahead — that offers information about his or her speed, altitude, rate of descent, and jump length.
King Gee


It's important for heroes to be presentable, both on and off the battlefield. To that end, this Australian company is using nanotechnology to make a fabric that absorbs body odor and could one day utilize nanotubes to create a super-suit that works just like the one Edna created for Elastigirl. "Virtually indestructible," she brags in the movie, "yet it breathes like Egyptian cotton."
Read More