Stacie Ponder – Step Right Up! The Five Quintessential Clive Barker Freak Shows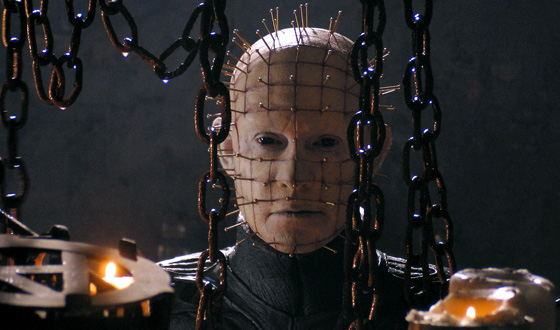 I encountered the work of Clive Barker as a young lass, when I bought a paperback edition of Books of Blood: Volume 1. The cover had an endorsement from Stephen King, and it's called Books of (freaking) Blood — so it was a no-brainer purchase. As I dug in, it was apparent that Barker's work was unlike any I'd ever read. Weaving together everyday reality and the supernatural, he hinted at the dark world that co-exists within our own and is separated by a veil that sometimes breaks. It wasn't so much the graphic violence that scandalized me as the S-E-X. Sadomasochism, pleasure, pain: no one I'd read before mixed horror with kink. Barker made King look like R.L. Stine.
A few years after I discovered Barker, Hollywood began adapting his work for the big screen. The results have been mixed, but there are some bona fide classics. When I think of Barker adaptations, these are the ones that come to mind.
1. Hellraiser
Who could have guessed that this gory picture would spawn a horror-franchise juggernaut? Pinhead and his leather-clad cenobite cronies have appeared in over eight movies, set everywhere between hell and outer space. Unhappy with previous adaptations of his work, Barker directed the first installment, in which the flesh is weak and erotic desire drives human behavior. The follow-ups have been uneven, but the original is a perennial.
2. Candyman
One of the best horror films of the '90s, Candyman could have been a run-of-the-mill slasher flick, but Barker made it so much more. On the surface, it's an urban-legend shocker, but there's a lot to meditate on here: the movie explores racism, classism, and crime. It also made Tony Todd a horror icon.
3. Nightbreed
Though filled with all manner of fabulous creatures, Nightbreed's true star is a very human monster: the creepy Dr. Decker, portrayed by famed horror director David Cronenberg. Based on the novel Cabal and directed by Barker, Nightbreed offers a glimpse into the world of Midian, which exists right beneath our feet and, in a twist on the old formula, is inhabited by a demonic race who aren't the bad guys.
4. The Midnight Meat Train
The Midnight Meat Train is perhaps best known for its botched release by distributor Lionsgate, which (in)famously dumped the movie into dollar theaters and then released it on DVD, rather than giving it the wide theatrical attention it deserved. That's a real shame, because it's a yummy taste of what horror fans are always craving: shocks, thrills, gore, and a memorable villain (Mahogany the Butcher, played by Vinnie Jones).
5. Rawhead Rex
To say this movie didn't live up to expectations is a gross understatement. What was originally a complex tale of ancient pagan gods became a simplistic monster movie, with the resurrected demon Rex munching his way across the Irish countryside. Still, there's something enjoyable about it, in a train-wreck sort of way. Rubber-faced Rex practically has a mullet, for heaven's sake.
It's a cliché but nevertheless true that it's extremely difficult to bring any book to life onscreen. But even when they get it wrong with Clive Barker — think Saint Sinner, Lord of Illusions, Underworld, Quicksilver Highway, and the Hellraiser and Candyman sequels — the movies are still thrilling experiences.

When Stacie Ponder isn't writing about horror movies here or on her own beloved blog, Final Girl, she's making them. Always, though, she leads a glamorous life, walking on the razor's edge of danger and intrigue.
Read More