Spike Jonze Enlists Members of Yeah Yeah Yeahs and Red Hot Chili Peppers for Soundtrack to Robot-Love Story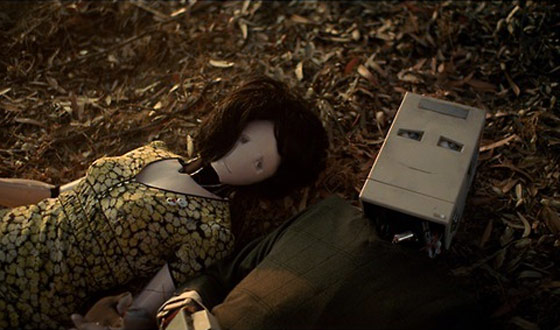 Filmmaker Spike Jonze has once again tapped an eclectic array of musicians for the soundtrack to his latest project, a 30-minute movie about robots called I'm Here.
Written and directed by Jonze, I'm Here is a futuristic love story set in Los Angeles. Actors Sienna Guillory and Andrew Garfield play the lead roles, although they're hidden behind computer-hardware costumes.
The short, which premiered in January during the opening night of the Sundance Film Festival, was a collaboration between Jonze and Absolut Vodka, a company that's worked with other artists and filmmakers in the past, like Andy Warhol and Keith Haring.
According to Absolut's press release,
they told Jonze he could make any kind of a film he wanted. The director relished his total creative control, saying, "They just wanted me to make something that was important to me and let my imagination take me wherever I wanted….I got to make my first love story."
For the soundtrack to the software-infused film, Jonze enlisted a diverse mix of musicians, including his brother, Sam Spiegel (a.k.a. Squeak E. Clean); Yeah Yeah Yeahs guitarist Nick Zinner; Red Hot Chili Peppers bassist Flea; and L.A. art-pop musician Aska Matsumiya.
Matsumiya is a member of two L.A.-based indie groups: the pop outfit Moonrats and the conceptual art band the Sads. She wrote and sung "There Are Many of Us," the first single from the soundtrack.
The
song, which is also featured in the film's trailer, is ethereal in texture and reminiscent of the cosmic-tinged music that Yeah Yeah Yeahs front woman Karen O created for the soundtrack to Jonze's Where the Wild Things Are. Zinner and Flea also played on it.
"There Are Many of Us" is available now, as a digital download, on iTunes. No release date has been set for the soundtrack.
I'm Here will screen next week in Germany, at the Berlin International Film Festival. Its worldwide online release will be in March.
Read More