So Bad They're Good – Cinema's Hottest Female Action Heroes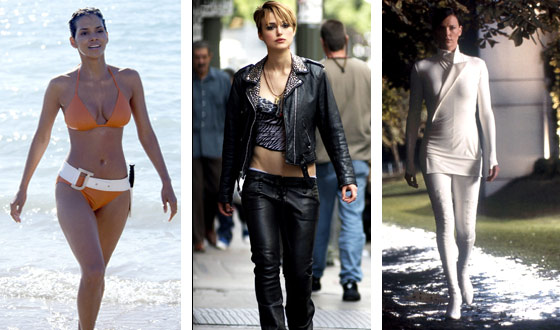 For years, guys like Schwarzenegger and Stallone got to rip off their shirts, oil themselves up, and blowing things up. It was only a matter of time before women — either scantily clad or wearing tight-fitting leather bodysuits — started blowing things up, too. Which hard-hitting actress has the best combination of beauty and bullets?

10. Zoe Saldana
Saldana is a newcomer to the action-heroine universe, and, if this list is remade in five years, she'll no doubt rank higher. In last year's Star Trek blockbuster, she played Spock's tough-gal paramour. Now she can be seen (sort of) kicking butt in Avatar. Next up? The comic-book movie The Losers, out in June.

9. Milla Jovovich
If Linda Hamilton invented the female action hero in Terminator, then Jovovich has carried the torch for the last two decades, with a steady stream of action roles that other actresses can't pull off. She drove every sci-fi geek crazy by strutting around half-naked as Leeloo, in The Fifth Element. Now she's every fanboy's dream, having starred in Ultraviolet and three Resident Evil flicks. (Yes, a fourth is on the way.)
8. Linda Hamilton
Hamilton defined the modern female action hero, in Terminator: big guns, ripped arms, and no deference to the menfolk (even Arnold). It's not a stretch to say that Hamilton going toe-to-toe with Schwarzenegger in Terminator paved the way for many a gun-toting lady. The only reason she ranks this low is that it's hard to imagine 12-year-old boys hanging posters of her on their walls.
7. Jessica Alba
With her background as the greatest TV superheroine this side of Buffy (Dark Angel), it should have come as no surprise to see Alba stuffed into a skintight suit in Fantastic Four. She loses points for not doing action more often and instead making horrible romantic comedies. Here's hoping there's more ass-kicking in her future and fewer movie with Dane Cook (Good Luck Chuck).

6. Keira Knightley
In the Pirates of the Caribbean trilogy, Knightley was tough, but not too tough. She's so intimidating as a bounty hunter in Domino that you almost (almost) forget how hot she is. In King Arthur, her Guinevere prefers killing and wearing shirts that leave little to the imagination. Not bad for a woman who weighs about a hundred pounds.

5. Jennifer Garner
She's done her fair share of cutesy comedies (a hard trend for these ladies to avoid), but in the comic-book adaptations Daredevil and Elektra Garner put her Alias physique to good use. Though she didn't done skintight superhero garb for her role as a gun-toting, take-no-prisoners special agent deployed to Saudi Arabia after a terrorist attack in The Kingdom, she more than held her own opposite her macho counterparts Jamie Foxx and Chris Cooper.

4. Charlize Theron
Theron's done action on a variety of occasions, to mixed results. She played a super-chick in Hancock, an unstoppable assassin in Aeon Flux, and an aggrieved woman who goes badass for vengeance in The Italian Job. The common thread (aside from a tendency to beat everyone down): she's superhot in all three, enough so to make everyone almost forget Monster and North Country.

3. Halle Berry
Fortunately for Berry, there's more to her action-heroine status than her ill-fated Catwoman. Even Berry couldn't redeem that ridiculous leather suit (and even more ridiculous script), so she loses some points in this race. On the flip side, she was consistently likable (and fierce) in the X-Men movies and became one of the most celebrated Bond girls of all time when she stormed the beach in an orange bikini in Die Another Day.

2. Kate Beckinsale
In the annals of women donning black leather, bearing a gun, and being charged with killing everyone and everything in sight, few can compete with Beckinsale. In Underworld, she played a gorgeous vampire who also happens to be the toughest chick on the planet. Beckinsale isn't seen often without her trademark leather body suit on (except when she's wearing nothing at all) and never without a weapon in hand.

1. Angelina Jolie
Jolie is the queen bee of this group and not just for the degree to which she's beloved but for her ability to slip seamlessly between action fare like Tomb Raider and Wanted and serious dramas like Changeling. She's just as likely to don a '50s dress in a period drama as she is don a leather suit with a gun holster. Both are fine, but it's obvious which is preferable: the guns.

Read More