Scott Sigler – I Ain't 'Fraid o' No Blokes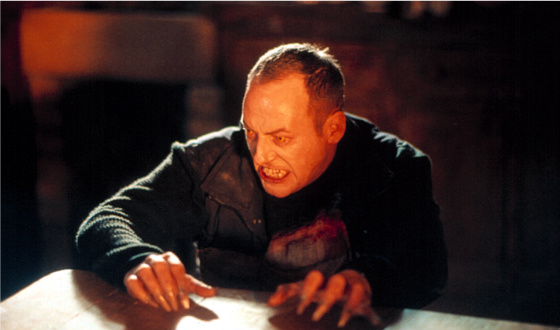 The U.K. isn't exactly known as a prime breeding ground for horror directors, but there are some notable category leaders who prefer tea over coffee: the legendary Alfred Hitchcock (The Birds), along with James Whale (Frankenstein), Terrence Fisher (Curse of Frankenstein), and the directors from the Hammer House of Horror.
But if you think all the U.K. greats are in the grave, you're dead wrong. There's a thriving batch of big names and up-and-comers across the pond, some of whom you probably had no idea weren't American. Your Uncle Scottie has put together an alphabetized list of living and active British horror hitmakers. You're bound to find some must-rents you've missed.
Marcus Adams
Adams is a little-known name lurking about the fringes of horror. He got on the scoreboard with his 2002 Ouija outing, Long Time Dead. Though there's not much good to say about that one, his next project is an adaptation of the video game Suffering, due out in 2011, and in-the-know types are betting his skills have improved.

Clive Barker
One of the best-known names in contemporary horror, Barker is most famous for his books, but he has quite a résumé as a director. Ever heard of Hellraiser? That was him. Throw in Lord of Illusions and Nightbreed and you're talking a killer track record. Tortured Souls: Animae Damnatae is rumored to have a 2011 release date.
Michael J. Bassett
Bassett is on the outside looking in, but he's not that far outside. His 2002 Deathwatch set the standard for supernatural horror movies about WWI trench warfare, and Wilderness did enough with a semi-familiar plot — people dropped on an island to be hunted and killed off — to stoke anticipation for the supernatural horror-fantasy Solomon Kane, about a mercenary whose soul belongs to Satan.
Danny Boyle
There isn't a hotter — or more versatile — filmmaker on this list than Boyle, who rocketed to prominence with Trainspotting. In 2002, Boyle, a proponent of the sprinting school of zombies, riveted audiences by busting out a can of whup-ass, with 28 Days Later. He doesn't seem to have much lined up for the immediate future: The Texas Killing Fields, scheduled for 2012, is a police procedural. (Once you win every award in the history of mankind, for Slumdog Millionaire, you get to pick and choose your projects.) But here's hoping a great horror idea comes to him soon.
Neil Marshall
Marshall rocketed to horror stardom with the indie werewolf flick Dog Soldiers, despite the fact that it debuted in the U.S. on Syfy. He followed up with 2005's rock-solid Descent, then stumbled with Doomsday, an unfocused, illogical hodgepodge of postapocalyptic movie clichés. Neither of Marshall's upcoming projects is horror: Drive is a stunt-driver-turned-heist-driver flick, and Centurion is a trapped-behind-the-lines story based on the slaughter of the ninth Roman legion by the Picts. But I count gory war movies as borderline horror.
Julian Richards
Richards first attracted attention with 2003's Last Horror Movie, a Blair Witch-by-way-of-The Ring take on the "Is this really happening?" narrative: it revolved around a serial killer who targets people who rent his movie. Kind of an awesome concept. But Richards makes the list for Cryptid, an Alien-esque monster-in-isolation flick scheduled for release later this year.
Bernard Rose
We haven't heard much lately from Rose, but twenty years ago he made a handful of unforgettable horror flicks, starting with the dark fantasy Paperhouse. We horror fans know him better for establishing a franchise with the first Candyman, and he had a near miss with 2005's Snuff-Movie.
Ridley Scott
He's a living legend, and his movies run the genre gamut, but he makes this list for Alien, which created its own sub-genre, a variation on the "Who dies next?" formula established by '70s slasher flicks. Word is that Fox won't green-light an Alien prequel unless Scott directs. We can only hope.
Christopher Smith
Smith debuted with Creep, which gave us a shadowy monster lurking in the London Underground, then built on his brand name with the Severance, the blackly comic tale of a corporate retreat. He was dancing on the edge of worldwide name recognition with the horror thriller Triangle, set on a blood-streaked ocean liner, and may hit the mark with his upcoming Black Death, which looks at resurrected plague victims
Edgar Wright
Wright hit a home run with his first feature, Shaun of the Dead, everyone's favorite zombie comedy of 2004. His brilliant send-up of action thrillers, Hot Fuzz, was pitch-perfect. The in-production Them is based on Jon Ronson's nonfiction book.

New York Times best-selling author Scott Sigler writes tales of hard-science horror, then gives them away as free audiobooks, at www.scottsigler.com. His novel INFECTED was named Borders's #1 mystery, thriller, and horror novel for 2008. His next major hardcover horror-thriller, ANCESTOR, will be out on May 4, 2010.
You think I don't know the U.K.? Listen, bloke, I visited there once, many years ago. Pretty sure I did, anyway — turns out English beer is a bit stronger than the swill I knock down in the U.S. I apologize to the entire United Kingdom for any and all offensive actions.
Read More