Scott Sigler – The Sheer Terror (Good and Bad) of Dean Koontz Movies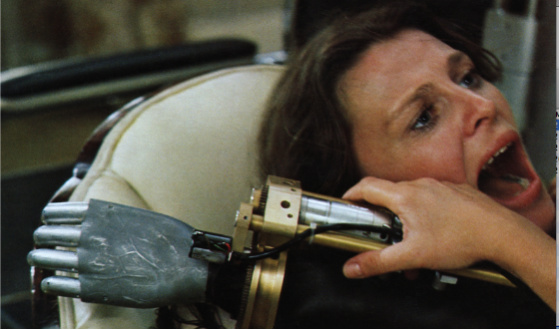 This column is about horror movies in all their splendor and trashiness. But sometimes it goes beyond them to look at source material — you may remember our examinations of Stephen King movies and vampire novels with a girl-power twist. While almost everything King writes is optioned (and much of it gets produced), he's not the only horror heavy hitter in the ring: enter Dean Koontz, who's written 81 novels since 1968, hit the number-one spot on the New York Times' best-seller list twenty-four times, and sold over 200 million books. Many of Koontz's novels have been adapted for the big screen, to decidedly mixed results. In the interest of cosmic fairness, let's look at both the top hits and the bottom-of-the-barrel misses.
The Top Three
1. Demon Seed (1977)
This tale of a computer determined to make a woman (Julie Christie) carry its artificially created child — apparently even machines can't avoid baby-mama drama — is one of the few flicks that tries to plausibly bridge the gap between technology and biology. The story is solid, even when the execution falters. Demon Seed fit perfectly into the late '60s-early '70s wave of "computers take over the world" movies, which included 2001: A Space Odyssey (1968) and Colossus: The Forbin Project (1970).
2. Intensity (1997)
The words "made for TV" are usually synonymous with "crap." And made-for-TV Koontz adaptations usually translate into something even worse. Here's an exception. The two-part mini-series gives you three hours of balls-out suspense that lives up to the movie's name. Thanks to serial killers, car chases, murders, flames, and wacky moments of motor-home danger, this one earned a 7.1-out-of-10 user-review score from IMDb. (If you're familiar with the Guys Living in Mom's Basement Who Still Know Everything About Moviemaking genre of commenting on the site, you know that 7.1 is an impressive score.) Intensity inspired Alexandre Aja's much-lauded flick Haute Tension (2003).
3. Phantoms (1998)
Phantoms was an early milestone in Koontz's quest for creative control over his work, which he achieved by penning the screenplay himself. It featured a lineup heavy on star power — Ben Affleck, Peter O'Toole, Rose McGowan, and Liev Schreiber. A wild cross between a cryptozoological horror and an end-of-days standard, the film chronicles a group of travelers who stumble upon a town full of dead people. The movie can't hold the novel's jock, but at least Koontz had his control. Bottom line: if you like to see little kids kill with vomit, this is the movie for you.
The Bottom Three
1. Watchers (1988)
It's hard to pick the most dismal adaptation of a Koontz work. I chose Watchers for selfish reasons: it's my all-time favorite Koontz novel. It kicks ass like Cus D'Amato-era Tyson. It focuses on a military project that pairs supersmart dogs (genetically modified but still lovable) with slavering monsters fond of eating people. The dogs, which are telepathically linked with the monsters, are trained to find a target; the monsters follow the link, and much munching ensues. But Koontz (like another horror author I know) is fond of man's best friend, so he allows one to find a loving boy. Bad idea. The novel is as excellent as the movie is bad. And the book is really good, so you do the math.
2. Watchers II (1990), Watchers III (1994), and Watchers Reborn (1998)
Wow. Just…wow. These sequels have about as much to do with Koontz's originals as Cheez Whiz does with Brie. The only sequels that might be worse are the bastard children of the Stephen King adaptation Sometimes They Come Back (1991), which include Sometimes They Come Back…Again (1996) and Sometimes They Come Back…For More (1998).
3. Frankenstein
If Hollywood is addicted to the reboot, it's even more addicted to is the sequel. And if you can make a sequel based on one of the most famous monster stories in history and don't have to pay royalties, all the better. It's been two centuries since Frankenstein did his thing, but he's still alive. How? Thanks to Dr. Frankenstein, of course, who's also still alive. Throw in a crime procedural, mass murders, missing organs, and, well, you can imagine how bad this mishmash turned out. It feels rushed, probably because Koontz planned the project as a cable series for USA, only to see it morph into a movie he abandoned because of creative differences. (He ended up not even wanting his name associated with the project.) Sadly, it's the third-worst movie associated with a Koontz book. Or is it a Mary Shelley book? Hell, I forget.
Sixteen and Counting
At the time of this writing, a total of sixteen movies and TV productions have been based on Koontz's books, and he's got two more in development, at Focus Features: The Husband, which is slated for a 2011 release, with Danish director Ole Bornedal (Nightwatch), and The Taking, which was briefly acquired by Sam Raimi and Rob Tapert's Ghost House Pictures, back in 2006. Here's hoping Koontz gets all the creative control he wants. And, Dean, if you're reading this, how about putting some muscle behind your own version of Watchers? If you do, I'll be there opening night, dog treats in hand.

New York Times best-selling author Scott Sigler writes tales of hard-science horror, then gives them away as free audiobooks at www.scottsigler.com. His novel Infected was named Borders's #1 mystery, thriller, and horror novel for 2008. His next major hardcover horror-thriller, Ancestor, will be out on May 4, 2010.
Oh, and if you're also are a fan of novels with dogs, à la Dean Koontz, prepare yourself for Ancestor, which features the debut of a little black Australian shepherd named Mookie. Mookie brooks no sass from monsters, be they human or the genetically engineered variety.
Read More