Rock Legends AC/DC Suit Up to Kick Ass in Iron Man 2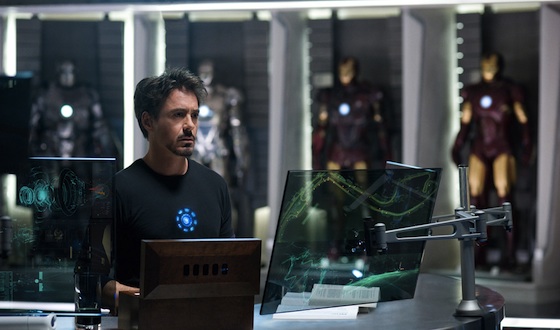 <img src="http://dev.blogs.amctv.com/wp-content/uploads/2010/02/ironman2.jpg" alt="" title="Rock Legends AC/DC Suit Up to Kick Ass in Iron Man 2" width="560″/>

Fresh off their first-ever Grammy win earlier this month, Australian rock legends AC/DC continue to defy the laws of career longevity with the recent announcement that their greatest hits — spanning over 30 years — will appear in this spring's Iron Man 2.
The film continues the story that began in Marvel Studio's 2008 box-office smash, Iron Man, which grossed almost $600 million worldwide. Both films star Robert Downey, Jr. as the playboy/engineer/superhero Tony Stark and were directed by actor Jon Favreau of Swingers fame.
After selecting AC/DC's classic tune "Back in Black" for his first Iron Man film (along with songs by Black Sabbath and Ghostface Killah), Favreau went back to the band's dense catalog of hard rock material and cherry picked their best (dare we say "fist-pumping"?) tracks to add some metal punch to his action-packed sequel.
In a press release announcing the band's involvement in the film, Steve Barnett — co-chairman of AC/DC's label Columbia Records — said of the pairing, "Jon Favreau's vision and passion for AC/DC's music blend seamlessly into this incredible film. The music really underscores the high energy and excitement of the film."
AC/DC's well-worn party anthems will shake up Iron Man 2 alongside a film score composed by Oscar-nominated composer John Debney. According to a posting on Favreau's very active Twitter account, the score was being composed in London last week at the famed Abbey Road studios. In the past Debney has composed music for The Passion of the Christ, Sin City, and this past weekend's top-grossing film, Valentine's Day.
Columbia Records will release the AC/DC songs heard in Iron Man 2 as an album called simply AC/DC: Iron Man 2. It includes fifteen classic tracks culled from the band's ten studio albums ranging from 1976 to 2008 and will also double as the band's first-ever "greatest hits" compilation but, surprisingly, won't include any new material.
Here's the track listing for AC/DC: Iron Man 2:
1. "Shoot to Thrill"

2. "Rock 'N' Roll Damnation"

3. "Guns for Hire"

4. "Cold Hearted Man"

5. "Back in Black"

6. "Thunderstruck"

7. "If You Want Blood (You've Got It)"

8. "Evil Walks"

9. "T.N.T."

10. "Hell Ain't a Bad Place to Be"

11. "Have a Drink on Me"

12. "The Razor's Edge"

13. "Let There Be Rock"

14. "War Machine"

15. "Highway to Hell"
Marvel and Columbia have released a promotional music video for "Shoot to Thrill" (also heard in the Iron Man 2 trailer) that mixes film clips with live concert footage shot during a Buenos Aires stop on AC/DC's ongoing "Black Ice" World Tour. The song originally appeared on the band's legendary 1980 album Back in Black, which has sold over 50 million copies worldwide and is the 5th best-selling album of all time in the U.S. according to the RIAA.
AC/DC: Iron Man 2 isn't the band's first soundtrack album. In 1986 they released the album Who Made Who which was a collection of previously released songs, several new tracks, and incidental music the band composed for Stephen King's directorial debut — the horror film Maximum Overdrive. For AC/DC fans, Who Made Who was the closest the band got to releasing a proper greatest hits album, until now.
The album AC/DC: Iron Man 2 hits stores on April 19. Iron Man 2 opens internationally on April 28 and in the U.S. on May 7.
Read More