Uncategorized
Q&A – Radha Mitchell Says Idea Behind The Crazies Isn't That Crazy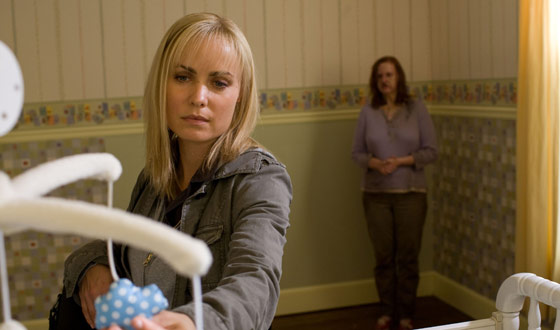 The Crazies Isn't That Crazy" width="560″/>

Radha Mitchell isn't your typical scream queen: in between films like Pitch Black and Silent Hill, she's starred in a Woody Allen movie (Melinda and Melinda), art films (High Art), and literary period pieces (Finding Neverland). But she keeps coming back to the horror genre. In her latest, The Crazies, she plays a doctor who needs to diagnose an illness affecting the residents of her town. Mitchell puts it all in perspective for us.
Q: It sounds like your voice hasn't fully recovered from all the screaming.
A: It does wear out your voice. You go down a couple registers, and it changes the way you speak. But it's so cathartic, and you feel so light and floaty afterward. A friend of mine screams into a pillow when he can't stand what's going on around him. It's a kind of therapy. And there are all these different kinds of screams, which you don't think about until you have to go in and loop the sound, and then you learn there are all these intricacies of what a scream sounds like. Imagine what your throat feels like at the end of a day where you're just in a black room screaming. You learn quickly there's a scream for just about any occasion.
Q: It probably also helps relieve the tension and give you a laugh when you're doing a film like this.
A: Yeah, when there are zombies — sorry, crazies — running around, and those costumes are quite funny, it's almost impossible not to laugh. But you have to believe in it, while the scene is taking place. And some of those scenes are quite tense; you wouldn't even be able to imagine. There was an especially tense scene when Joe Anderson's character, Russell, realizes he's losing his mind. And so you have to embrace the tension so you can do that dramatically.
Q: How realistic a scenario do you think the film is? Could this happen in real life?
A: I think it already has happened in real life. There was a situation in Bhopal, India — have you heard about this? — where there was a leak at a chemical plant, and 8,000 to 10,000 people died within 72 hours. It was just a corporate catastrophe at a pesticide plant, and, even though it happened in 1984, because the chemicals polluted the groundwater, people are still poisoned to this day. And associated with the film, there is a petition encouraging people to write their senators to get chemical plants that are considered potentially hazardous or vulnerable to accidents or terrorist attacks to change facilities or switch to safer chemicals. There's about 300 plants right now that are considered high risk.
Q: Usually you hear more about viruses — Ebola, SARS, bird flu, swine flu — than man-made situations.
A: Even while we were shooting, the swine flu was making its way through the media. The other day — my friend is going to hate me for telling this story — but my friend had a dinner party, and she cooked, and, 24 hours later, eight people were sick. I was on an airplane, and I was throwing up. It was just from a bug, but, that poor girl, she can never have another dinner party again. And that was a small thing. It's pretty scary when you think about it on a mass level.
Q: So what's the solution?
A: Well, the movie's solution is to contain it, cover it up, and bomb the town! [Laughs] But if you look at Bhopal, as an example, it's a nightmare the way facts can be disguised and people get these diseases. And now that we're boarding airplanes more and more, you can see how something can become global in a matter of weeks. So the movie explores that concept. The solution to bomb the town — well, if you can live with that, you can rest. But that's a very inhumane solution.
Q: This is a remake of George Romero's 1973 film of the same name, but that version also included the perspective of the military.
A: And that was interesting, their dilemma, how to contain it. But what's also interesting is to take that out and focus on the people who are subject to the situation itself. Otherwise, it becomes too much of a sociopolitical nightmare.
Q: Your character is pregnant when this happens to her town. She seems immune, but how can she be sure about her baby?
A: That's the thing — you don't know. And you don't know if they're truly free when they escape, because the military is just going to contain and bomb the next town they go to. It certainly personalizes it.
Q: So while you're in horror-movie mode, are you going to be in the sequel for Silent Hill that Roger Avary and Samuel Hadida are doing?
A: I'm not sure what's going on with that, but I'm really intrigued by the monsters that can be anything. That's interesting to me. I'd be happy to come back and do a cameo as a monster. That would be fun.
Read More