Uncategorized
Q&A – Penelope Cruz Says Daniel Day-Lewis Wouldn't Play Her Game in Nine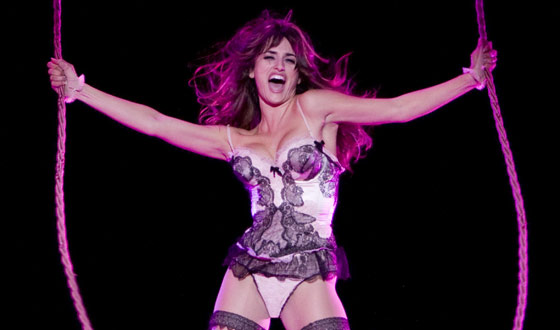 Nine" width="560″/>

Last year, critics raved about Penelope Cruz's performances in Elegy and Vicki Cristina Barcelona, the latter winning her an Oscar for Best Supporting Actress. This year, she's being lauded for turns in Broken Embraces and the musical Nine, in which she plays Daniel Day-Lewis's sultry mistress, Carla. She's been nominated for an Oscar for the role. Here she talks about getting ready for Nine and how she keeps her ego in check.
Q: Rob Marshall said that you auditioned for the parts of Claudia, Luisa, and then, ultimately, Carla.
A: I auditioned for three different characters because I said, "I'd do whatever you want. I just want to be in the movie." I didn't know which part yet. I would have been happy with any of them. I just knew I wanted to be part of this movie, to be there on set, and then Rob called and said he wanted me for Carla.
Q: Did it scare you to have to sing? That wasn't really you singing in Volver, was it?
A: That was not me in Volver! [Laughs] And it was scary, because I never sang before professionally. Only at home. I own a karaoke machine. It was the first time we did a musical, for most of us. So we had a lot of rehearsal. We rehearsed for three months. But I was so nervous, especially when I had to record the song at Abbey Road. The morning they told me we were recording, I thought I should protect my voice and not talk to anybody, so I was going crazy.
Q: What about the dancing? You trained in classical ballet as a child. Did that help?
A: I did classical ballet — I studied for over ten years — but that had nothing to do with this. It was not this type of dance. The first day I saw the choreography, I almost said, "You should fire me." I didn't think I could do it. You learn ten seconds of the song at a time, and you work on that part of the choreography, and then you do a little more, until you can do the whole number. But my main worry was that I would be injured. I started on this slide that was 30 or 40 meters high, and then I go on a crystal platform. I thought I would fall. I would go to the costume designer, and I was there, every day, torturing her, making sure my shoes would not be too slippery. And I was showing everybody my hands, the calluses from the rope. The bruises and the blisters and the bleeding — they become your little medals. You don't even feel the physical pain anymore. It looks easy, but it was very hard to learn.
Q: What about the preparation to be Carla? How did you get in her mind-set?
A: Carla, something about her is a little off. She's like a little girl. She has a fantasy about her and Guido's life together, and she thinks they're going to be happy forever, even though they are both married to other people. When she's around Guido, she feels special, but she's also in a lot of pain.
Q: How did it work to play off Daniel Day-Lewis for those scenes?
A: Well, I have to say, I was a little nervous, because he's one of the masters of acting. I think he was really one of the greatest partners to work with. I tried to make him part of my game of self-criticism. I asked him after a take, "Daniel, I was terrible. What do you think?" And he would never engage in that game with me. He would just want to go on to the next take. He's someone who never looks in the monitor, who's always in the present. It's a huge lesson in acting, and, in that way, he has no ego. He's always moving forward. That was a huge lesson for me.
Q: You've won an Oscar yourself. How does that affect how you approach your roles now?
A: You know, I only remember part of that night. I was praying not to faint, so I could enjoy a little bit of the moment. But I don't remember the moment on stage. I cried afterward, for half an hour. And I asked my family to take me somewhere to get cheeseburgers. And then we went to some parties. I think Jack Nicholson took my Oscar and danced with it. And for a month, I was so excited. I took it everywhere with me. I even took it to the beach one day. I wanted to show it to everybody. But it doesn't change the way I approach things, and it doesn't change the way I am on set. I am as nervous and insecure as I was before, and I don't want to lose that. I think insecurity comes with acting, and it's important to not be too confident. I don't want to get on set one day and feel like I know what I'm doing.
Check out what Oscar-nominated actors Jeff Bridges, Colin Firth, Christopher Plummer, Helen Mirren, Jeremy Renner, Carey Mulligan, and Anna Kendrick have to say about awards season 2010.
Read More