Uncategorized
Q&A – Colin Firth on the Emotional Life of A Single Man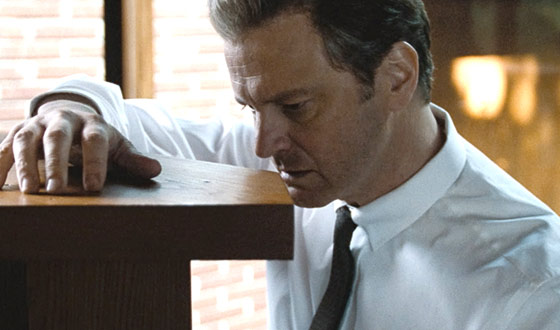 A Single Man" width="560″/>

Golden Globe-nominee Colin Firth is enjoying his first major Oscar buzz, for his performance in A Single Man as George Falconer, a lonely, gay college professor in 1962 who's devastated by the death of his lover and contemplating suicide. It's a highly nuanced performance that required every human emotion from the actor, Firth explains.
Q: How much of the character came from the script and how much came from you?
A: Basically, he wakes up and we find him in a state of utter despair. He's chosen this to be his last day, and so everything's different today. What happens in the course of that day — he experiences every human emotion you can imagine, and he looks at everything as if for the last time. And suddenly it's as if he's looking at it for the first time, paradoxically. So you look at a rose, and suddenly it's the most red rose you've ever seen. The world is now more vibrant to him. It's about a man who's taking a journey toward a death that he's sure of, and then he dies really at the very moment he falls in love with life.
Really, the character and the story line are one and the same. The script was very, very basic: "He comes in, he picks up his mail, and this is what he says." No "he gazes at her," no "he inhales deeply," no "he walks with a stiff gait." None of that. So there was a lot of space to be filled, and I was intrigued by it. But not endless stage directions. A lot of the scenes were written in one line of stage direction, so it was up to me. It's unusual material to not have it all be explicit in the dialogue.
Q: What did Tom Ford bring out in you?
A: He's not an interfering director. He sets up a very controlled environment, with strong stimuli, the costumes, the set, the atmosphere, and then he lets you get on with it. He just lets you be alone with your character, which is rare. It's rare to be alone on a set this much, although it becomes a relief when other actors are around. We shot for 21 days, with very intense night shoots, and it was lovely for 3 days, when Julianne Moore showed up. And Tom just lets you bring it to him. He didn't push in. He didn't change lenses. He didn't track it in or cover it. He kept it very simple.
Q: Especially in the phone-call scene, when George is notified of his partner's death.
A: I was a little afraid of that scene, because it takes you through not just finding an emotion, but starting in a scene in one mental state and ending up in another. It's not, "Roll camera and then cry." I couldn't prepare my tears beforehand and get in the zone for the emotion I'm trying to conjure, because I have to end up there, after a series of shocks. The news has to sink in, and it has to feel real. Tom let the camera roll for about twelve minutes for that one.
Q: How much of the shock do you think stems from Jim's parents not wanting George to be notified?
A: It's possible being gay in 1962 might have something to do with his isolation — he's not invited to the funeral — but that scene is a reminder that everyone has a right to that kind of love. Love is just love. I don't think George defines himself by his sexuality any more than I do. The issues are more about love and loss and isolation and rediscovering life. I think the flashbacks show a comfort level you earn after sixteen years together, and you know that George has no hope of finding that again. He feels he has nothing left to live for. I think he's been thinking about this for a while. He's been suffocating; his life is intolerable.
Q: And yet he's able to find humor in that, playing with the gun.
A: Some people think he's actually contemplating suicide in that moment, but he's not. It's a rehearsal. What are the places he can do it and make the least mess? He wants to know exactly where the blood and brains are going to go. It's just part of his personality to keep tweaking things until he got it right. It's like the suit. It's a sign of how he faces the world. He desperately needs to create this appearance of perfect control, but, if you take his cuff links off, he'll fall apart. The film is about what penetrates that barrier.
Q: Does the Oscar buzz for this film affect you in any way?
A: I think the important thing is that a small film like this thrives on a good response. It's not got a massive amount of money to campaign, so it thrives on its merits. And if it gets traction on that basis, I hope that's what gets people into the theater.
Read More