Oscars for Shockers – The Horror! The Horror!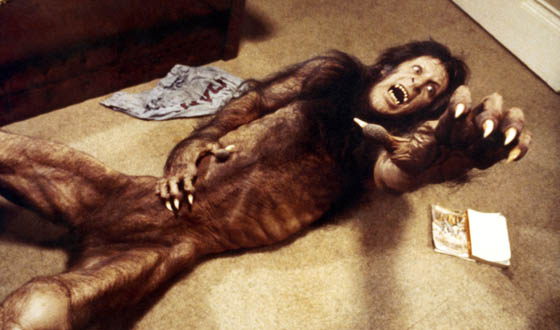 Start poking around Oscar-nominated movies and you'll quickly see how many that aren't fright flicks have "devil" in their titles: The Devil and Miss Jones, The Devil Came at Night, The Devil Dancer, The Devil Pays Off, The Devil's Holiday, Devil Take Us, The Devil Wears Prada, Four Devils, and Traffic With the Devil among others. But there's never been any real love for between the Academy and Horror. The Haunting and The Innocents, two of the finest ghost movies ever made, garnered no nominations. The Uninvited (just as good) earned only one for Best Black-and-White Cinematography. A few scary pics have got past the Academy's rope and bouncer thank goodness. Here are some of the highlights.
1931/1932: Dr. Jekyll and Mr. Hyde
This picture only won a single award, but it was nominated for two others (a big deal considering that this was the fifth Academy Awards ceremony and there were only twelve awards total). Fredric March took home the statuette for Best Actor but he had to share it with The Champ's Wallace Beery. March won by a single vote; the rules then deemed that a tie.
1941: King of the Zombies
Zombie movies with Oscar noms aren't limited to Bela Lugosi's White Zombie and the apocalyptic 28 Days Later. King of the Zombies' score (by prolific B-movie composer Edward Kay) got one too although that's largely because up until 1945, the Academy guaranteed every studio got one nomination of its own choosing in this category. Monogram Pictures went for it, which is how journeyman Kay wound up rubbing shoulders with heavy hitters Bernard Herrmann (Citizen Kane, All That Money Can Buy), Franz Waxman (Dr. Jekyll and Mr. Hyde, Suspicion), Miklos Rozsa (Sundown), and Alfred Newman (Ball of Fire, How Green Was My Valley). .
1956: The Bad Seed
Middle-class America was in a lather about delinquent youth, and The Bad Seed told parents what they wanted to hear: Rotten-to-the-core kids are born, not made! Good girl Christine Penmark (Nancy Kelly, Best Actress nominee) gets mixed up with sociopath Rhoda (Patty McCormack, Best Supporting Actress nominee). Eileen Heckart also earned a Best Supporting Actress nomination as nosy neighbor Mrs. Daigle, and the movie's cinematography was singled out in the Black-and-White category. No wins, but the film's legacy includes Children of the Damned and The Orphan.
1962: What Ever Happened to Baby Jane?
What does an industry that eats its young do with superannuated stars? Exploit them. Robert Aldrich's What Ever Happened to Baby Jane? cast golden-age superstars Bette Davis and Joan Crawford has-been Hollywood siblings locked in a grotesque battle of the wills in a decaying mansion. It was recognized with five nominations: Best Actress (Davis), Supporting Actor (Victor Buono), Cinematography, Sound, and Costumes. Its only win was for costume designer Norma Koch.
1972: Ben
Ben (the sequel to Williard) is about killer rats. A barely adolescent Michael Jackson — introduced by Charlton Heston as a "young man whose talent is mature but whose age suggests that maybe he shouldn't even be up this late" — performed the theme on the Oscar telecast. Ben lost to The Morning After. Shame on the Academy!
1973: The Exorcist
It won only won two awards, for Best Sound and Best Adapted Screenplay, but The Exorcist was nominated for Best Picture, Best Actress (Ellen Burstyn), Best Supporting Actor (Jason Miller), Best Supporting Actress (12-year-old Linda Blair), Best Director (William Friedkin, 1971 winner for The French Connection), Best Art Direction, Best Editing, and Best Cinematography (five-time nominee Owen Roizman). Horror was in the house.
1974: Young Frankenstein
After ignoring the Universal — for Dracula, Frankenstein, The Invisible Man, The Mummy, and The Wolf Man, movies that established the visual vocabulary of foggy moors and shadowy cemeteries, forbidding castles lit up by slashes of lightning, cobwebbed rooms and laboratories alive with electrical sparks — the Academy started making amends by honoring this wacky send-up.
1981: An American Werewolf in London
Best Makeup became a regular category in 1981, and Baker's werewolf transformations were game changers. Baker has been nominated nine more times to date — and won for Harry and the Hendersons, Ed Wood, The Nutty Professor, Men in Black, and Dr. Seuss' How the Grinch Stole Christmas. Rob Bottin's equally inventive work, on 1981's other werewolf movie, The Howling, wasn't nominated.
1990: Misery
Misery, based on Stephen King's novel about the ultimate scary fan, received a single nomination, but Bates became the first woman to win a Best Actress award for a horror movie, upsetting Oscar pools all over America. Ghost scored five nominations, including Best Picture, and won two: Best Supporting Actress, for Whoopi Goldberg, and Best Original Screenplay, for Bruce Joel Rubin.
1991: The Silence of the Lambs
Can you say "sweep"? The Silence of the Lambs was nominated for seven Academy Awards and won five: Best Picture, Best Actor (Anthony Hopkins), Best Actress (Jodie Foster), Best Director (Jonathan Demme), and Best Adapted Screenplay (Ted Tally, from the novel by Thomas Harris). Never mind that (I think) Manhunter is the better movie and Brian Cox the more subtle Dr. Lecter:
2006: Pan's Labyrinth
It's a horror movie, it's in Spanish, and it scored six Academy Award nominations — amazing. Yes, it lost Best Foreign-Language Film, Best Music, and Best Original Screenplay. But Guillermo del Toro's beautiful, bleak, magical, uncompromising fairy tale won for Cinematography, Makeup, and Art Direction. Sounds like a milestone to me.
That brings us to 2010, the year the Academy recognized veteran exploitation mogul Roger Corman with an honorary Oscar for Lifetime Achievement. Yes, the Academy of Motion Picture Arts and Sciences has broken down and honored the man who brought us crab monsters.Maybe they could find it in their hearts to pony up special awards for Todd Browning, John Carpenter, William Castle, Lon Chaney, Lon Chaney Jr., Peter Cushing, Boris Karloff, Christopher Lee, Val Lewton, Bela Lugosi, F.W. Murnau, Jack Pierce, Vincent Price, George Romero, Barbara Steele, and James Whale. We can always hope.
Read More