Uncategorized
Movie History – Five Truths Served Up by This Year's Oscar Nominations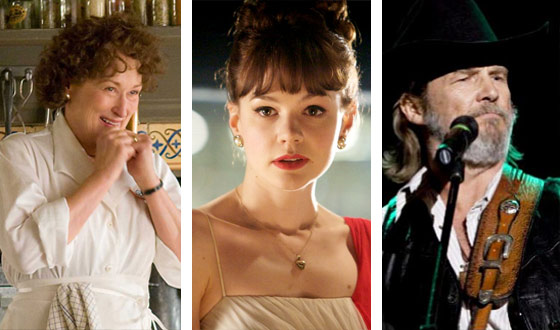 It's that time of year again: the Oscar nominations have been announced. This year's awards race is particularly notable, as it marks the debut of the Academy's newly expanded, ten-nominee Best Picture slate. As is always the case, the movies blessed with nominations are a good indicator of not only how things are going in Hollywood but also in the culture-at-large. What lessons can we glean from this year's picks?
1. Longevity and Maturity Count
EXHIBIT A: Eighty-year-old Christopher Plummer, best known for his portrayal of Captain Von Trapp in the Best Picture-winning Sound of Music (1965), received his first Oscar nomination after a fifty-six-year-long film career, for his role in The Last Station. If he wins the Oscar, he will be the oldest male performer ever to win an acting Oscar, beating out George Burns for his win in The Sunshine Boys (1975).
EXHIBIT B: Two senior Oscar winners received additional acting nominations: 72-year-old Morgan Freeman acquired his fifth acting nomination, for Invictus, and 64-year-old British actress Helen Mirren scored her fourth acting nomination, for The Last Station.
EXHIBIT C: Sixty-year-old Meryl Streep garnered her sixteenth nomination and a record thirteenth lead nomination (surpassing Katharine Hepburn's twelve), for her role as bubbly chef Julia Child in Julie & Julia.
EXHIBIT D: Fellow 60-year-old Jeff Bridges received an acting nomination, his fifth, for his role as broken-down country singer Bad Blake in first-time director Scott Cooper's Crazy Heart.
2. But Young First Timers Also Fare Well
EXHIBIT A: Among the twenty acting nominees, there were twelve first timers. Their average age was about 42, which puts them at the younger end of the spectrum. (Fun side note: without Plummer on the list, the average would have dropped further, to 38.)
EXHIBIT B: The two youngest performance nominees were 24-year-old British actress Carey Mulligan, for her lead role in An Education, and 24-year-old Anna Kendrick, for her supporting role in Up in the Air.
EXHIBIT C: Thirty-two-year-old Jason Reitman became the youngest filmmaker to have received two Oscar nominations for Best Director, the latest for Up in the Air. If he captures the Oscar for Best Director, he will be, at 32 years and 139 days, the youngest winner ever.
EXHIBIT D: Twenty-six-year-old Gabourey Sidibe, with her Best Actress nomination for Precious, is vying to be just the fifth woman ever to win the Best Actress Oscar in a film debut.
3. Progress Is Made, Albeit Slowly
EXHIBIT A: Kathryn Bigelow became the second American woman nominated for Best Director (following Sofia Coppola, for Lost in Translation, in 2003) and only the fourth woman nominated in the category for her helming of The Hurt Locker.
EXHIBIT B: Fifty-year-old black producer-director Lee Daniels received his first Best Director nomination, for Precious. He is only the second African-American ever nominated for Best Director — the first was John Singleton, for Boyz n the Hood (1991).
EXHIBIT C: Precious was the first ever Best Picture nominee to be directed by an African-American filmmaker. It was co-produced by a triumvirate of African-American backers — director Lee Daniels, Tyler Perry, and Oprah Winfrey — and it was the second instance in which black producers were behind a Best Picture nominee: the first was when Quincy Jones produced The Color Purple (1985).
EXHIBIT D: There were three black performance nominees: Morgan Freeman for his lead role as Nelson Mandela in Invictus; and Gabourey Sidibe for her lead role as a 16-year-old abused teen and 42-year-old Mo'Nique for her supporting role as the teen's abusive mother, both in Precious.
4. Revenue and Ratings Are Foremost
EXHIBIT A: The real motive behind featuring an expanded field of ten nominees for Best Picture was to increase box-office sales and interest in the Oscars themselves. Most agree that the Academy was worried that the audience for the ceremony had been declining over the years owing to a narrowing focus on independent and specialty films.
EXHIBIT B: Five of the ten Best Picture nominees in 2009 have grossed over $100 million domestically. In 2008, only one of the five Best Picture nominees had done so, The Curious Case of Benjamin Button.
5. But Big Box Office Doesn't Guarantee Oscar Recognition
EXHIBIT A: Seven of the top ten highest-grossing films at the box office in 2009 received little or no recognition in terms of awards. Avatar, Up, and The Blind Side were the exceptions.
EXHIBIT B: The seven neglected films were Transformers: Revenge of the Fallen, Harry Potter and the Half-Blood Prince, The Twilight Saga: New Moon, The Hangover, Star Trek, Alvin and the Chipmunks: The Squeakquel, and Monsters vs. Aliens.
EXHIBIT C: Two low-budget independent films snagged honors: The Messenger (Best Supporting Actor for Woody Harrelson and Best Original Screenplay), an Iraq-themed Sundance movie distributed by upstart Oscilloscope, and the British political satire In the Loop (Best Adapted Screenplay), a film that premiered on video-on-demand concurrently with its theatrical release.
Read More