Not So Fast, Award Nominee! Here Are Ten Victims of the Oscar Curse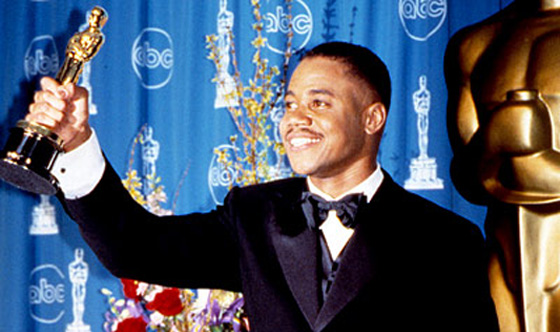 The so-called Oscar curse is a tricky devil. Some careers run off the rails after a win, only to bounce back when a choice role pops up. (See Marisa Tomei.) For other actors, winning an Oscar is a one-way ticket to movie jail. Take Renée Zellweger, for instance: her 2004 Best Supporting Actress win for Cold Mountain capped a string of hits that included Bridget Jones's Diary and Chicago. But then came the unfortunate Bridget Jones sequel and a series of flops (Miss Potter, New in Town). Renée isn't alone in this regard. Let's take a look at a few of the actors who have fallen victim to the dread Oscar curse.

10. Luise Rainer, The Great Ziegfeld and The Good Earth
Many believe the concept of the Oscar curse originates with Rainer, who was also the first actor to score back-to-back statuettes, before experiencing a total career flameout, beginning with 1938's all-but-forgotten Great Waltz. Still, she's an inspiration to aspiring two-time winners and it's hard to cry for a woman who's curse included winning two Oscars. For this latter reason, Rainer is ranked as a solid tenth place.

9. Kevin Spacey, American Beauty
Spacey's Oscar-winning turn as suburbanite Lester Burnham was followed by Pay It Forward and K-Pax. The aughts saw a string of flops: from The Shipping News to the little-seen Bobby Darrin biopic Beyond the Sea.

8. F. Murray Abraham, Amadeus
His big-screen career failed to take off, following his acclaimed turn as Salieri in Milos Foreman's Mozart biopic. To be fair, Abraham has had great success as a stage actor. To be less fair, he's appeared in tons of turkeys: Last Action Hero, Mimic, Thirteen Ghosts, and the straight-to-DVD The All New Adventures of Laurel & Hardy in 'For Love or Mummy' co-starring Bronson Pinchot. That's almost too weird to be labeled bad.

7. Helen Hunt, As Good As It Gets
When Hunt won Best Actress in 1997, it looked like she might be on her way to becoming the next Meryl Streep. Who knew she would end up being the next Bonnie Hunt? Hunt's career never recovered from bombs like Pay It Forward (hello Spacey again) and The Curse of the Jade Scorpion. In 2008, she returned, with Then She Found Me, which took a critical drubbing from many on Rotten Tomatoes, for both her acting and directing. And yet some still have faith in Hunt's future.
6. Louise Fletcher, One Flew Over the Cuckoo's Nest
Fletcher will forever be remembered as the tyrannical Nurse Ratched, a role that earned her an acting Oscar despite being up against some serious talent (Glenda Jackson and Isabelle Adjani). Following that up with Exorcist II: The Heretic, The Lady in Red, and Mama Dracula wasn't the wisest career move. Fletcher bounced back on TV during the '90s and for that alone she's keeping out of our dreaded top five.

5. Gwyneth Paltrow, Shakespeare In Love
Yes, she rebounded mightily with the summer blockbuster Iron Man, but did anyone actually see that for Paltrow's performance? Heck no. Remember Sky Captain and the World of Tomorrow? Or View From the Top? Neither do we, frankly. Meanwhile, high-toned indies like Proof and Sylvia couldn't burnish her tarnished career. For a fall from such great heights (which included a romance with Brad Pitt), Paltrow lands at a not-quite-doomed forever number five.

4. Mira Sorvino, Mighty Aphrodite
Sorvino comes from an acting family (pop Paul was in GoodFellas), and her Oscar-winning turn as a ditzy prostitute in Woody Allen's Mighty Aphrodite seemed to foretell a stupendous career in romantic comedies. But then Mira decided she was an action star and appeared opposite Chow Yun-Fat in The Replacement Killers and fought giant bugs in Mimic. Her career is currently M.I.A., but her likeable turn in Romy and Michele's High School Reunion keeps her out of the top three.

3. Roberto Benigni, Life is Beautiful
In the halcyon days of 1997, the world fell in love with an Italian clown named Roberto Benigni. He broke our hearts in the acclaimed Holocaust dramedy Life is Beautiful and gave Oscar watchers fodder with his memorable acceptance speech. Then came 2002's Pinocchio, a weird, costly bomb that earned him a rare 0 percent on Rotten Tomatoes. He's been out of the spotlight ever since. We don't miss him that much either.

2. Halle Berry, Monster's Ball
It's clichéd to pick on her, but there's no denying that Berry has endured a string of infamous flops. Watching Catwoman or Gothika is even more painful when you consider how great Halle was back in 2001, in Monster's Ball. Outside of the X-Men movies, everything she's done since has been a disaster. But her sense of humor (she graciously accepted a Razzie Award for Catwoman) keeps her out of the top spot. We're rooting for you, Halle!

1. Cuba Gooding Jr., Jerry Maguire
When we consider his unintentionally funny turn in the "inspiring" drama Radio and the decidedly unfunny comedies Road Trip and Daddy Day Camp, we realize no recent Oscar winner has so successfully made us forget the days when he was a promising newcomer. He's talented (see his recent role in American Gangster), but it's safe to say Cuba has been following the "Show me the money!" mantra of his Jerry Maguire character for far, far too long.
Read More