Everything I Need to Know I Learned from Drew Barrymore in Never Been Kissed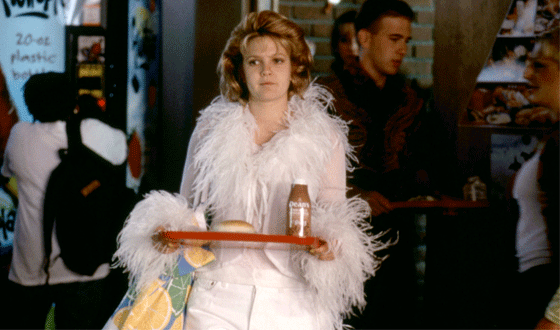 There are life lessons to be learned in just about every movie, no matter how contrived or ridiculous. Even the filmy romantic comedy Never Been Kissed, starring Drew Barrymore, offers insights that can help you live a better life. Seriously! To wit: Barrymore's character, Josie Geller, completely turns her life around in just two short months. She starts out as a dowdy copy editor you wouldn't pick out of a crowd and quickly becomes a local celebrity who gets the man of her dreams. Sure, it's a Hollywood ending, but if you're dreading Valentine's Day, there's value in asking, "How does she do it?"
Admittedly, her transformation begins with a little luck when she's handed the opportunity to go undercover as a teenager to report on America's youth. From there, it's easy to focus on all the things she does wrong: Wearing white jeans, a white shirt and a white feather boa to high school ("I don't think you're supposed to wear white jeans after 1983," a popular girl tells her); walking around with the word "LOSER" on her forehead and getting tongue tied to the point where a boy asks if she's in special-ed. But there are some things she does right; here's what you can do to follow her lead.
1. Get a makeover.

This one may be a movie cliché but that doesn't negate the notion that getting a new haircut and outfit really can make a big difference. Unless you're Rachael Leigh Cook in She's All That, in which case you need only take off your glasses.
2. Take a big risk.

The first time Josie went to high school everyone called her "Josie Grossie." Sad! The last thing she wants to do is go back. But when she faces her fears she ends up meeting a great guy: Her English teacher Sam. It's complicated, naturally, but the point is that the greatest risks can also be the most rewarding.
3. Get your geek on.

In a desperate attempt to fit in with the popular crowd, the 25-year-old Josie quits math club and ditches a good friend because she doesn't want to be labeled as a geek. Once she's "in" with the popular crowd she regrets the decision and tells her classmates, "Find out who you are and try not to be afraid of it." Now, who wouldn't benefit from taking that as their mantra?
4. Build a fan base.

It's always nice when people are cheering you on. By sharing her story with everyone in town (via the newspaper), Josie builds a support network that backs her up in her time of need. When she's standing on the pitcher's mound waiting to see if Sam will show up and accept her apology, her fans are there with her. "They're behind you. They feel like they know you!," says her friend Anita (Molly Shannon).
5. Think ahead and give yourself an out.

By announcing that she'll only wait five minutes for Sam, Josie gives herself a way to move on if he doesn't show. The ticking clock on the Municipal Stadium creates suspense for the audience but for her it's a self-help tool. If it doesn't work out she can make a graceful exit, recover, and start all over again tomorrow.
Click here for a full schedule of Never Been Kissed showings on AMC.
Read More