Mary Robinette Kowal – Fantasy's Ten Most Passionate Kisses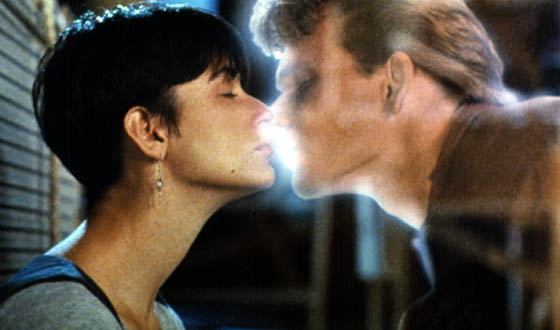 Quick: What's the most passionate kiss in all of fantasy? The Princess Bride's, right? After all, the Grandpa narrator says it leaves behind the five other kisses rated the most passionate, the most pure. But that begs the question: What are those five (or for that matter, ten) other kisses? Let's find out, and see if Bride's hyperbole still stands.
10. Sally and Mark Kiss, Practical Magic
Sally (Sandra Bullock) and Michael (Mark Feuerstein) seem meant for each other. Their passion is built on true love and trumps Sally's fear of the old family curse. Sadly, that love is exactly what triggers the curse. Copy their passion, not the curse.
Technical Highlight: She leaps into his arms
9. Harry's First Kiss With Cho, Harry Potter and the Order of the Phoenix
In one of the sweetest moments in the movie, Cho Chang and Harry Potter share Harry's first kiss. While it might be short on passion, it's long on tenderness. The chasteness of the kiss and the way the stand apart from each other, letting only their lips touch, is part of its appeal.
Technical Highlight: Nice head tilt. No awkward removal of glasses.
8. Edward and Bella's First Kiss, Twilight
Here we have passion, but no purity. When Edward and Bella kiss you can practically hear their repressed sexuality scorching the celluloid. The big challenge here is that Edward wants to eat Bella,and not in the double-entendre way. This is a kiss filled with danger.
Technical Highlight: Slow approach builds tension.
7. Shrek (Finally) Kisses Fiona, Shrek
Talk about the transformative power of a kiss! With true love's first kiss, Shrek breaks the curse on Princess Fiona allowing her to live her life in just one form rather than being forced to lead a dual existence as part-ogre, part hottie. What's beautiful about this is the moment when Fiona looks at her ogre self, "I thought I'd be beautiful" and Shrek tells her that she is. Never let your true love doubt it.
Technical Highlight: Literal fireworks
6. Marion Kisses Indy Back to Health, Raiders of the Lost Ark
Normally, I wouldn't recommend putting your love to sleep, but Marion Ravenwood's gentle kisses show the best thing about love. In that moment, Indy is totally safe. The kisses that progress from a gentle peck on the elbow to his forehead and eyelids are deeply romantic. Side note: In most cases, you don't have to be injured to practice this!
Technical Highlight: The sum of a series of small kisses is greater than the parts
5. Will and Elizabeth Smooch Mid-Battle, Pirates of the Caribbean: At World's End
The opposite of safety is kissing in the middle of a giant freaking battle on a ship full of immortal pirates. Nice romantic location for a tete-a-tete, and it does demonstrate these two lovebirds' total commitment to each other, even in the face of certain death.
Technical Highlight: Swords held raised at true loves' shoulders keeps the necks safe in battle.
4. Mu Bai's Last Breath Kiss, Crouching Tiger, Hidden Dragon
Here the purity of Li Mu Bai's love for Yu Shu-lien is almost the end of it. They hold themselves to such high standards that neither acknowledges their true feelings for each other until it Mu Bai is dying. "I've already wasted my whole life," he says. "I want to tell you with my last breath that I have always loved you." And then they kiss. It's a deeply moving moment, but a word to the wise: Don't wait this long.
Technical Highlight: Many tiny passionate kisses allow one to pull back to regard the object of affection.
3. Giselle and Robert's First (or Second, or Third) Kiss, Enchanted
If you resist love for so long, the first kiss can't help but be passionate, particularly when it brings your true love back from death. Giselle and Robert's second kiss ranks higher since it is consensual. Their third kiss, after they come so close to being killed? Now that's passion. Still, nothing is quite as nice as being woken from sleep by a kiss.
Technical Highlight: Note her hand at the nape of his neck. Playing with the hair is a bonus.
2. Molly and Sam's Spirit Smooch, Ghost
When love reaches past death, you know it's full of passion. Even though he would never say the words "I love you," the purity of Sam's love for Molly pulls him back to the world of the living. The kiss they share when Sam inhabits Oda Mae's body is one of the most pure and passionate kisses because it is an expression of love without hope of consummation.
Technical Highlight: Gender is not a barrier to true love
1. George and Mary's Final Kiss, It's a Wonderful Life
There's no fighting true love. As George and Mary stand next to each other, listening on the same earpiece, the connection between them is palpable. Rumor has it this kiss was so passionate that the censors trimmed it. But the purest, most passionate kiss is the one they share at the end of the movie. They each thought the other lost to them and know exactly how precious their love is.
Technical Highlight: Delivers kiss with children hanging from them.
Now you tell me: Is The Princess Bride's kiss really more passionate than any of these?

Mary Robinette Kowal is the winner of the 2008 John W. Campbell Award for Best New Writer and a professional puppeteer. Her first novel, Shades of Milk and Honey, is being published by Tor in 2010.
Read More