John Scalzi – Sci-Fi Video Games That Could Make Good Movies, If They're Done Right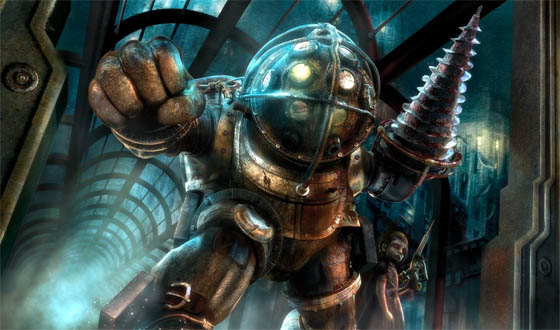 A reader writes:
You're pretty negative on video games as source material for movies. But do you think any video games could make good movies?
Normally, I would refer such questions to AMCtv.com's resident video-game expert, fellow columnist Anthony Burch. But what the heck: I don't think video games are inherently poor source material. Theoretically, anything can be good material, as long as the people involved are clever and know their way around what they hope to adapt.
When Pirates of the Caribbean was announced as a movie project, I thought someone was mad — but smart people took a theme-park ride and made it work, because they didn't make a movie about the ride, they made a movie of the world the ride takes place in.
Here's some sci-fi games I would pay to see in a movie theater.
BioShock
Often described as Atlantis meets Atlas Shrugged, BioShock has a nifty premise, an engaging story, creepy moral quandaries, and production design that's Oscar-worthy. Gamers see BioShock as the descendant of the equally creepy, brilliant System Shock games, which themselves would make good flicks.
Half-Life
Half-Life is one of the first video games I replayed just to go through its story once more — not a total surprise, as the narrative was crafted by Marc Laidlaw, an accomplished sci-fi novelist. Laidlaw took a standard "Oh, no! Scientists have opened a passage in space-time and evil aliens are on the other end" video-game trope and made it work like a shiny new idea. Half-Life's sequels have even better stories.
Halo
This one is obvious, because it was inevitably going to be made into a movie with Peter Jackson producing and Neill Blomkamp directing. But then the project fell apart, and Jackson and Blomkamp went off and made District 9, which was recently nominated for Best Picture and Screenplay Oscars. These guys could have made a Halo flick worth watching. It doesn't hurt that the Halo series has a deep and consistent mythology of its own — or that there are several Halo novels worth raiding, for story points.
Homeworld
Homeworld has a great story, about people who discover that they aren't from what they thought was their home planet and build a huge spacecraft to find the real one. The game play consists largely of real-time strategizing in order to fend off attacks from aliens. The goal for potential filmmakers wouldn't be to re-create the game, but to evoke the world of the game.
Portal
This game is made by Valve Software, the same people who made Half-Life, and, likewise, has excellent writing, complementing compelling game play. Making a whole movie out of what is basically an escape-from-a-maze story would be a challenge, but the reason I'd see it is GLADoS — the best homicidal computer since HAL. She alone would be worth the price of admission.
You might notice that, aside from Halo, I've avoided military sci-fi video games. That's because I think awful movies like Doom have poisoned that well and only a franchise as strong as Halo could un-poison it. It's also because, well, after a certain amount of time, all military sci-fi shooters feel alike. The games I've mentioned are so distinct that I find myself wanting to see their worlds brought to the big screen.
Any sci-fi games you'd like to see adapted? Share them in the comments.
Winner of the Hugo Award and the John W. Campbell Award for Best New Writer, John Scalzi is the author of The Rough Guide to Sci-Fi Movies and the novels Old Man's War and Zoe's Tale. He's also a creative consultant for the Stargate: Universe television series. His column appears every Thursday.
Read More