John Scalzi – Five Thoughts on This Year's SciFi Oscar Nominations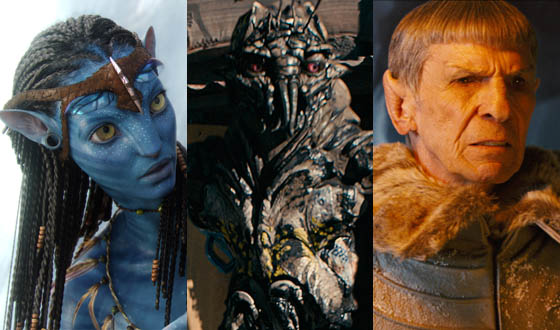 Well! Tuesday was not a bad day for scifi: Avatar racked up nine Academy Award nominations, including Best Picture and Best Director, District 9 found its way to four nominations including Best Picture and Best Adapted Screenplay, and Star Trek also picked up four nods in technical categories. Oh, and Transformers: Revenge of the Fallen got one, in Sound Mixing, to go with its seven Razzie nominations. So that's nice, too.
Some thoughts on all of this:
1. This year breaks a 27-year drought for science fiction in the Best Picture category, dating back to 1982 when E.T. was nominated; Avatar and District 9 are the fourth and fifth movies in the genre to be nominated (after E.T., Star Wars in 1977 and A Clockwork Orange in 1971). It's also the first time two scifi flicks have been nominated for Best Picture in the same year, so no matter how you slice it 2009 will go down as a watershed year in the genre.
2. While I had really no doubt Avatar would be in Best Picture contention, I was initially skeptical District 9 would hit the list. So to have it show up is a nice thing indeed, although its screenplay nomination both floors me and is a welcome surprise. Folks who wish to snipe will note it's likely there because the Best Picture field expanded to ten slots this year, to which I would say, first, obviously, and second, so what. If The Blind Side can be on the list, certainly District 9 deserves a slot.
3. Trek fans may be miffed that the movie was nominated only in technical categories, but to my mind that's pretty much a fair outcome. I think it got on the Producers Guild Awards slate for what it did (profitably revive a dormant franchise) than for what it is (a good and fun but not great movie). And if these fans are miffed now, wait until Avatar snatches all the technical Oscars, which it will almost certainly do.
4. Yes, yes, you say. But do either Avatar or District 9 have a chance to win? I'll start off with District 9: No chance at all. First, it was one of the five movies on the slate to not get a Best Director nod. The last time a movie won Best Picture when the director wasn't nominated was 20 years ago with Driving Miss Daisy. It's not likely to happen again this year, and it's especially not likely to happen with a scifi movie. Likewise, while Neill Blomkamp and Terri Tatchell should be thrilled with their screenplay nom, they probably don't need to work too hard on their acceptance speeches. Hey, it's just an honor to be nominated.
5. Avatar? Well, now. I believe it's going to clean up in the technical categories because, as it happens, the movie is an actual technical wonder. Plus, any movie that can drag in $2 billion worldwide and still have people coming back into theaters is hard to ignore. Aside from anything else Avatar's done, it's reminded audiences that there really is something to be said for seeing a movie in a theater with other people.
That said, Avatar has disadvantages in its struggle to emerge as top flick. First, it has no acting nominations, and actors are the largest group of voters in the Academy — roughly 20%. Avatar also lacks a screenplay nod, and it's relatively unusual for a movie to win Best Picture without one — although the last one which did was Titanic, so that's something to consider. Also, scifi's track record in the Best Picture slot is 0-3 so far, and the nearly three decade gap between E.T. and Avatar suggests that the Academy's bias against the genre has not exactly abated. Finally, the other front runners this year are a decent crop of movies. These will all work against Avatar down the stretch.
So what's my final estimate at Avatar's chances? Of the ten, it's in my top three along with Hurt Locker and Inglourious Basterds. If you put a gun to my head, I'd flip a coin between Avatar and Basterds. Yes, at the moment I think we're that close to having the first scifi Best Picture. But we'll have to wait a month to see how it shakes out.
Your thoughts?
Winner of the Hugo Award and the John W. Campbell Award for Best New Writer, John Scalzi is the author of The Rough Guide to Sci-Fi Movies and the novels Old Man's War and Zoe's Tale. He's also Creative Consultant for the Stargate: Universe television series. His column appears every Thursday.
Read More