Uncategorized
The Movie List – Top Ten Football-Player Performances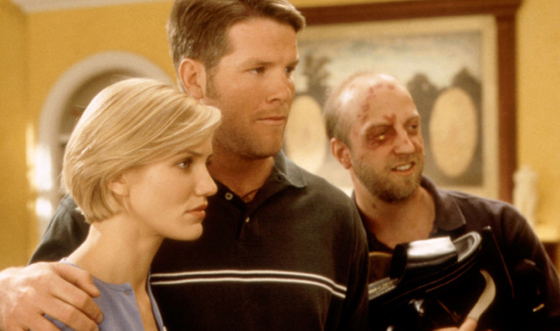 The only thing as American as watching stuff explode at the multiplex is spending Sunday afternoon screaming at football players on a plasma screen. In honor of football's big week, here's a list of the top ten big-screen performances by football players.

10. Dan Marino: He may never have won a Super Bowl ring, but the Miami Dolphins legend played the not-so-demanding role of himself in four movies, from Ace Ventura: Pet Detective to Little Nicky.
9. Fred "The Hammer" Williamson: Remember the biker opposite George Clooney in From Dusk Till Dawn? That's Williamson! Having appeared in or directed over twenty films, his run at the movies sure outlasted his sports career.
8. Terry Bradshaw: The athlete turned sportscaster is the only football player to boast a star on Hollywood's Walk of Fame. He also boasts a nude scene in Failure to Launch.
7. Brett Favre: When quarterback Steve Young turned down a role in There's Something About Mary — the raunchy humor clashed with his devout Mormon principles — Favre was more than happy to intercept.
6. Bubba Smith: At six foot seven, this first-round-draft pick towered over his co-stars in the Police Academy franchise, as the memorable Moses Hightower.
5. Brian Bosworth: This trash-talking linebacker (a.k.a. the Boz) signed one of the biggest rookie contracts ever, then went on to become one of football's biggest flops. After his sports career failed, he tackled a cop role in the B-movie Stone Cold.
4. Howie Long: This Hall of Famer's action-star looks came in handy when he followed up his NFL career with some acting gigs. He made his Hollywood debut in John Woo's Broken Arrow, with John Travolta.
3. Carl Weathers: Weathers may have only played two short seasons for the Oakland Raiders, but at least he got to co-star in Predator with two future governors: Arnold Schwarzenegger and Jesse Ventura.
2. Alex Karras: The former Detroit Lion probably angered more than a few animal activists with his hilarious horse punch in Blazing Saddles. His role as the dim-witted Mongo was written largely by Richard Pryor.
1. Jim Brown: The legendary Cleveland Browns athlete gave up his sports career to star alongside Lee Marvin and Ernest Borgnine in the great war movie The Dirty Dozen. One of his scenes was so brutal, it reportedly cost director Robert Aldrich a shot at an Oscar.
Want to rank these (and seven other) movies that star football players?

Read More