Columnist John Scalzi Picks Up Two Nebula Award Nominations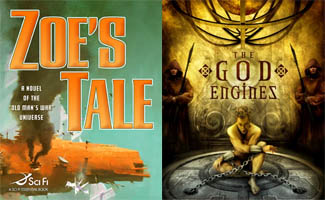 Three cheers for John Scalzi! The Science Fiction and Fantasy Writers of America today announced their nominations for the 2009 Nebula Awards, and SciFi Scanner's esteemed columnist has been honored with two nominations — one for his novella The God Engines, and another for his young adult novel Zoe's Tale.
The God Engines — a dark fantasy about a man of faith taking his ship on a sacred mission — was nominated in the Novella category along with Kage Baker's The Women of Nell Gwynne's, Carolyn Ives Gilman's Arkfall, Nancy Kress's Act One, James Morrow's Shambling Towards Hiroshima and Jason Sanford's Sublimation Angels.
Zoe's Tale — the fourth novel in Scalzi's Old Man's War series — was nominated for the Andre Norton Award for Young Adult Science Fiction and Fantasy along with Kage Baker's Hotel Under the Sand, Sarah Beth Durst's Ice, Malinda Lo's Ash, Lisa Mantchev's Eyes Like Stars, Rebecca Stead's When You Reach Me, Catherynne M. Valente's The Girl Who Circumnavigated Fairyland In A Ship Of Her Own Making and Scott Westerfeld's Leviathan.
The awards will be announced at the Nebula Awards Banquet on May 15 at the Hilton Cocoa Beach Oceanfront in Cocoa Beach, Florida.
Read More