Zombies Invade AMC as The Walking Dead Moves to Pilot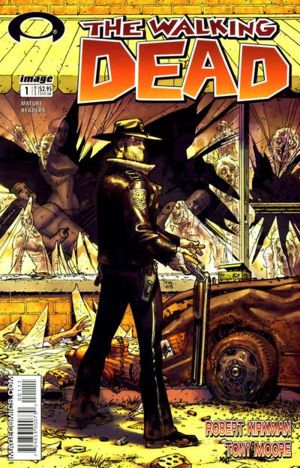 Ending months of speculation, AMC has ordered a pilot for Robert Kirkman's The Walking Dead. Recounting the months and years that follow a zombie apocalypse, The Walking Dead has run in comic book form since 2003, and ranked as the number 3, 4, and 5 bestselling graphic novels of 2009 according to Diamond Comic Distributors.
The comic focuses on a group of survivors, led by police officer Rick Grimes, who travel in search of a safe, secure home. The story goes on to explore the challenges of life in a world overrun by zombies, and how sometimes interpersonal conflicts present greater danger than the zombies themselves.
The television version will be executive produced by series creator Robert Kirkman, Valhalla Motion Pictures chairman Gale Anne Hurd (The Terminator, Aliens, Armageddon, The Incredible Hulk), and three-time Academy Award nominee Frank Darabont (The Shawshank Redemption, The Green Mile) who has also signed on to write and direct. David Alpert from Circle of Confusion has also signed on as an executive producer.
In addition, AMC has greenlit a pilot for The Killing, an adaptation of the Danish series. Forbrydelsen. These are the fourth and fifth pilot orders for AMC; the first three being Mad Men, Breaking Bad, and Rubicon.
Read More