Web Stalker – Getting Over Any Possible Clash That Comes With Reviving Those Titans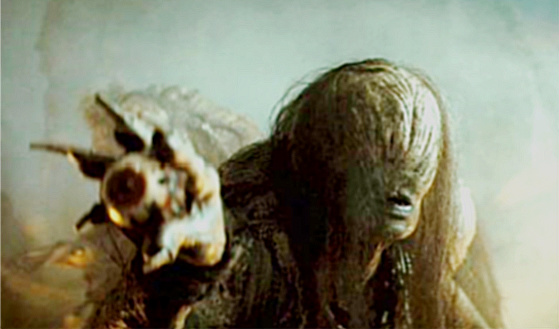 Don't worry – Web Stalker hasn't gone all LOTR fanboy on you just yet. Sure, the forthcoming Clash of the Titans remake isn't horror, strictly speaking. But have you checked out that trailer!? Eyeless witches, winged demons, and massive crab-like monsters, oh my! There's also the not inconsequential matter of the Kraken, which may or may not be "the monster from Cloverfield." And since Web Stalker's ever-straining ears have been picking up no small amount of chatter coming from the great beyond (aka horror blogosphere), it seems like the perfect time to make the movie the subject of this week's column.
Those of you for whom Nightmare on Elm Street is a bigger childhood reference point than, say, The Exorcist, may not even remember the original, which was a massive hit when it was released in 1981. It starred Laurence Olivier! And Harry Hamlin! And it was produced by cultishly adored producer/special effects pioneer Ray Harryhausen, who rendered the myth of Perseus in endearing stop-motion that many remember with delight. Of course, the movie hasn't aged particularly well, so it's rife for a remake, right? Or, wait, is it?
The project's actually been germinating at Warner Bros. since the olden days (2002), but it wasn't until 2006 that they officially announced they were moving forward with the remake. At that time, newcomer Travis Beacham was attached to write, and bloggers were dubious. "According to Beacham, his version of the story will adhere to the same basic plot as the original, but in 'darker' and 'more realistic' ways," reported Cinematical, before musing, "More realistic?! Wouldn't that sort of ruin everything? People love Clash of the Titans because it's cheesy, and because the stop-motion effects, though great for the time, are so dated! Remaking it realistically totally misses the point — who the hell wants to see the story told with fancy CGI and some good actor who's not Harry Hamlin?" "My big fear," weighed in TheMediumIsNotEnough, "Is they're going to do a Tristan & Isolde/A Knight's Tale and try to make it more 'contemporary'. Ugh. But who knows? They might do the right thing. I'm not expecting the unexpected… and with Troy still lingering in the memory, my hopes aren't that great." Nor were the bloggers over at DreamLogic: "Now, instead of a Harryhausen animated scorpion and Medusa we'll have amazing CG effects that will look dated within a year! Ooooooh boy!" In the end, Lawrence Kasdan was hired to rewrite the script, and the blogging malcontents retreated into their shells.
Well, as you know, public approbation (or lack thereof) has little to do with studio plans: Warner Bros. forged ahead nonetheless. Next up: Director! Bloggers seized on rumors that first Sam Raimi (rejoice!) then Robert Rodriguez ("hmmmm"), and then Steve Norrington (please god no), of The League of Extraordinary Gentlemen notoriety, were in talks. In the end, the WB settled on the somewhat less controversial choice of Luc Besson protege Louis Leterrier, whose weird resume includes everything from Unleashed (you know, the movie in which Jet Li plays a man raised by a Glaswegian thug as human pitbull… literally, with a collar and everything) to The Incredible Hulk.
Well, fast-forward to the current day, and this quizzical, constantly-morphing movie is about to hit theaters, so we've been hit with a barrage of new news. And it seems that public opinion has swung back in Clash's favor. "We don't know about you guys, but one remake we're completely on board for is Louis Leterrier's version of the creature-laden classic Clash of the Titans," trumpeted DreadCentral in November. "After seeing the teaser trailer, we're completely stoked. Yes, it has a LOT of CGI, but something about the subject matter is just irresistible." Meanwhile, in a post titled, "Update! Clash Of The Titans Trailer Looks Like The Greatest Iron Maiden Video Never Filmed!," AintItCoolNews gushed, "this rockin' trailer for Louis Leterrier's Clash of the Titans remake works for me… I'm more than happy with Leterrier embracing his inner-Antonio Margheriti." MTV News called the trailer "quite tantalizing."
So far so good! Alas, the rumor mill was still busily churning. In late December, the LA Times Movie Blog reported that the cast had been called back to reshoot certain scenes and wondered, "Is it really enthusiasm that is behind the mad scramble? From the outside, last-minute returns to the set look like signs of trouble." After a chat with star Sam Worthington, they concluded that the reshoot was necessitated by the possibility of releasing the movie in 3-D. (Quel surprise!) Well, the MTV Movies Blog quickly put that rumor to rest, quoting Leterrier himself as saying, "We tried [to do 3-D for 'Clash']. We tried hard. We just won't have time… Maybe we possibly can re-release it in 3-D."
OK, got that? The movie is being re-shot as we speak, but only to make some minor improvements, not because they're planning to release it in 3D. Leterrier also scuttled gossip that Stephenie Meyer faves Muse were going to be providing the soundtrack: " I love Muse, I'm the biggest Muse fan ever, but I wanted something a little different," he explained. The new talent? Incredible Hulk scorer Craig Armstrong, and Matt Bellamy of Massive Attack!
Whew. We've got about two months left before movie's official theatrical release, and based on the past few weeks, the buzz willget more heated. What do you think, readers? Has all this saber-rattling got you jazzed for the remake, or does it fill you with longing for the stop-motion splendor of old?
Read More