The Movie List – Top 10 Greatest Escapes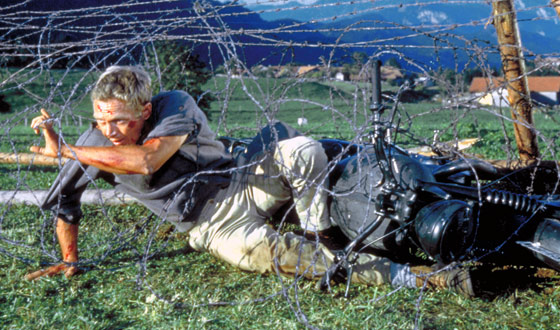 If you enjoy digging tunnels with a spoon and excel at outwitting sadistic Nazis (or redneck sheriffs), you're ready for tonight's movie list: The Greatest Escapes.

10. Escape from New York (1981): Kurt Russell's Snake is an enterprising criminal who uses a Presidential hostage as a bargaining chip for freedom… and an excuse to kick ass.
9. The Shawshank Redemption (1994): Posters of Rita Hayworth, Marilyn Monroe and Racquel Welch hide Tim Robbins' tunnel to freedom. Who says there's no glamour in the joint?
8. Chicken Run (2000): Based on the classic formula of an outsider organizing misfits and hatching an escape, this animated flick is so good, it led to the creation of a new Oscar category.
7. Rescue Dawn (2006): Christian Bale wasted away for the role of a Vietnam P.O.W. The flick was shot in reverse order to protect Bale from unhealthy eating habits.
6. Midnight Express (1978): An American caught with drugs experiences a living hell before managing a way out — you'll never confuse a Turkish bath house for a Turkish prison.
5. Escape from Alcatraz (1963): Some doubt the escapees really survived the swim from "The Rock," but their bodies were ever found.
4. The Count of Monte Cristo (2002): This story of wrongful imprisonment and revenge has an escape so great, it's referenced in The Shawshank Redemption and V for Vendetta.
3. Star Wars (1977): The movie that made George Lucas one of the richest men in Hollywood proves that an escape can be just as great all the way in outer space.
2. The Great Escape (1963): Steve McQueen wouldn't sign on until they added the infamous scene where he attempts to break out on a motorcycle.
1. Papillon (1973): Once again, it's Steve McQueen who this time does his own stunt for this escape from Devil's Island: A dangerous cliff jump that he called "exhilarating."
Want to rank these (and ten other) great escapes?

Read More