SXSW 2010 – Kick-Ass Will Open SXSW Film Festival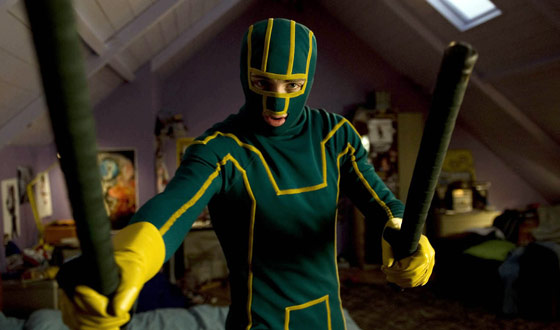 Kick-Ass Will Open SXSW Film Festival" width="560″/>

Last year at South by Southwest (SXSW) in Austin, Texas, yours truly and team AMC News brought you everything from an interview with the founder of IMDB to the premiere of I Love You, Man. We'll be there again this year, and we just got in some breaking SXSW news from Austin: Kick-Ass, the movie about an everyday kid who decides to become a real-life superhero, will open the SXSW Film Festival. Here's more about the film, which opens in theaters nationwide on Apr. 16, direct from our friends at SXSW:
A twisted, funny, high-octane adventure, based on the comic written by Mark Millar and John S. Romita, Jr., Kick-Ass was directed by Matthew Vaughn (Layer Cake, Stardust) from a screenplay by Jane Goldman & Vaughn.

Kick-Ass tells the story of average teenager Dave Lizewski (Aaron Johnson), a comic-book fanboy who decides to take his obsession as inspiration to become a real-life superhero. His life is forever changed as he inspires a subculture of copy cats, is hunted by assorted violent and unpleasant characters, and meets up with a pair of crazed vigilantes, including an 11-year-old sword-wielding dynamo, Hit Girl (Chloë Grace Moretz) and her father, Big Daddy (Nicolas Cage), and forges a friendship with another fledgling superhero, Red Mist (Christopher Mintz-Plasse). But thanks to the scheming of a local mob boss Frank D'Amico (Mark Strong), that new alliance will be put to the test.
Also announced today were five other narrative and documentary feature SXSW premieres. They are:
Cold Weather – SXSW alum Aaron Katz directs this feature about a former forensic science major and avid reader of detective fiction, who, after making a mess of his life in Chicago, returns to his hometown of Portland, Oregon. There, he, his sister Gail, and new friend Carlos become embroiled in something unexpected.

Elektra Luxx – Following the successful world premiere of Women In Trouble at SXSW 2009, writer/director Sebastian Gutierrez returns with the world premiere of its hotly anticipated sequel. The film follows a hectic day in the life of former adult film superstar Elektra Luxx as she tries to survive in the straight world. The film stars Carla Gugino in the title role, and Joseph Gordon-Levitt, Timothy Olyphant, Emmanuelle Chriqui and Malin Akerman.

Hubble 3D – SXSW will present the first public screening of Hubble 3D at the Bob Bullock IMAX® Theater. Through the power of IMAX® 3D, Hubble 3D will enable movie-goers to journey through distant galaxies to explore the grandeur and mysteries of our celestial surroundings, and accompany space-walking astronauts as they attempt the most difficult and important tasks in NASA's history. The film is directed and produced by Toni Myers.

Lemmy – A documentary from director Wes Orshoski, the film delves into the personal and public lives of heavy metal icon and Motörhead frontman Lemmy Kilmister. Nearly three years in the making, and featuring appearances by such friends/peers as Metallica, Dave Grohl, Billy Bob Thornton and pro wrestler Triple H, the film follows Kilmister from his Hollywood bedroom to the hockey arenas of Scandinavia and Russia.

Saturday Night – Directed by actor James Franco, the documentary looks at what it takes to create an episode of the legendary comedy show, Saturday Night Live. Follow behind the scenes as the actors, writers and producers go through one frenetic week of trials and tribulations as each volley to get sketches on air.
Stay tuned here, or follow me and AMC News on Twitter for the latest SXSW updates and information about our complete coverage on-air and online. SXSW Film runs Mar. 12 – 20.
Read More