Uncategorized
Q&A – Creation's Paul Bettany Looks Into the Eyes of an Orangutan and Learns…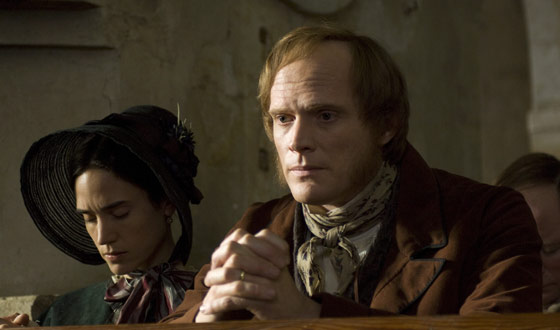 Creation's Paul Bettany Looks Into the Eyes of an Orangutan and Learns…" width="560″/>

The impact of Charles Darwin's book On the Origin of Species is well known, but what it took to write it is another story. In Creation, Paul Bettany gives us a glimpse of Darwin's heart and mind as he struggled against religious dogma, the grief of losing a child, and his own ill health to write the book that would spark a debate about humanity's place in the world. Bettany explains how his interest in Darwin evolved.
Q: Did working on Master and Commander: Far Side of the World in any way prepare you for Creation since your characters have a bit in common?
A: They perhaps went to the same part of the world, and they perhaps were interested in the same biology, but in terms of character? Stephen Maturin [from Master and Commander] is a spy, and can fight, and if he were put in solitary confinement, he would come out relatively the same. Darwin would have fallen apart without [his wife] Emma. They're just so different. And there's a different responsibility playing a fictional character versus a real person who changed the world.
But I do think going to the Galapagos Islands for the shoot sparked my interest in Darwin. I started reading Voyage of the Beagle while we were shooting Master and Commander. He was incredibly prolific — he wrote nearly a book a year. And while it is more accessible than a lot of scientific writing, On the Origin of Species is still a f—ing slog! But his diaries, they really feel like letters to a friend. You felt like he was talking to you.
Q: So what was your impression of Darwin?

A: I think he was a quiet man, who was sick, physically sick,
even though he had been incredibly robust when he was traveling around
the world. He was into hunting, fishing, sports, and adventured around
the world. And when he came back, it made him very sick. It took a lot
of courage for him [to write Origin], to even breathe the
words. He actually wrote, "It feels like I'm confessing a murder."
People ask me if I'm worried about the reaction [to this movie] from
creationists — but everybody was a creationist back then! He must have
been terrified. And that's what was so courageous.
Q: There's been a lot of debate over the source of his illness. It sounds like you think he made himself sick …
A: I believe his illness was psychosomatic. The symptoms are so
multiple, and there's this crazy contradiction of using freezing cold
water douches [hydrotherapy], which have actually no science to it, and
then he goes, "Now I feel better." It seems to me that there's
something unconscious at work, which is the conceit of the movie. So
that's where I try to come toward him, to connect with him about loss,
and madness, and things like that.
Q: You have some tender moments with the orangutan, Jenny. What was it like doing those scenes?
A: I defy anybody to sit down and play with an orangutan and
say, "I don't share a connection with you, or a common ancestor." Its
one thing to say that, and another to have one looking into your eyes
and playing with you. I was going to play the harmonica, and dance, and
then she took the harmonica and played it, and she took my pens and
started drawing. That wasn't what we had planned. She pulled my wig off
— I guess she didn't like it — and pulled me into the cage. She was
incredibly strong.
Q: Were you scared?
A: It's weird — my heart tends to beat slower when the camera's
on. I get calmer, usually because I know what's going to happen. And
you can do things on camera you wouldn't otherwise do. I remember on Master and Commander, I had bugs crawling all over my hand. And I f—ing hate bugs. I really don't like them. Cockroaches, I couldn't do.
Q: How did it make things different for you to co-star with your wife [Jennifer Connelly]?
A: Traditionally, the leading actor and the leading actress go
to bed together, but they're not usually talking about the next day's
work! [Laughs] We were. And it was a great experience for the children,
to visit the film set. My son likes it when I'm on a set killing
vampires [such as in the upcoming Priest]. He doesn't like to see things like The Young Victoria, unless I could give the queen a roundhouse kick. He likes those sorts of movies.
Q: You must as well — you're playing Charles Darwin and a kick-ass fallen angel [in Legion] in the same week!
A: I love movies. I love Spencer Tracy, but I also love Dawn of the Dead.
I love horror movies. I love zombie movies. And when I do something, I
think, "Let's do the absolute opposite," to keep everyone guessing.
Read More