Uncategorized
Q&A – Christopher Plummer on The Last Station (and That Elusive Oscar)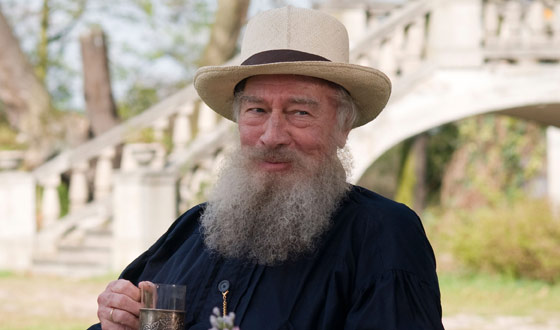 The Last Station (and That Elusive Oscar)" width="560″/>

Christopher Plummer got his first Golden Globe nomination for playing F. Lee Bailey — and he very well may win one for playing Lev Nikolayevich Tolstoy. As the famed Russian novelist in the last months of his life in The Last Station, Plummer is tackling a part that could mean an Oscar nomination — and if so, it would be his first. The 80-year-old actor talks about the man, the role, and the elusive Oscar.
Q: What did it take to become Tolstoy?
A: There's so little research on him. I mean, there are reams of paper, and his letters are illuminating, and that helped me understanding the humanity on the private side. But the home movies and documentaries aren't very much value because there's no sound. He may have made one or two recordings of his voice, but the medium was so new, you can't really hear much.
Q: So what did you draw on?
A: The beard! It was the year of the beards, between this and The Imaginarium of Doctor Parnassus. I rather like beards because you can hide
behind them. When I played Rudyard Kipling [in The Man Who Would Be King], that was quite easy, too — just stick on the mustache, and that's the performance.
But
really, you just try every day to get more unassuming. When you play a
genius, it's impossible, because everyone has to say that you're a
genius. You can't possibly say it yourself! So you make yourself as
unassuming as possible. The authority is already there.
Q: You've played so many real-life figures, so why Tolstoy? And why at the end of his life?
A: I thought of the vast life that Tolstoy had, and you can't
make a biography of him. It wouldn't be a movie, it would be a series
of movies, and it would take four years to film. But the last years are
the most humanizing, with the most passion and agony. And I thought
that was great, that perhaps he wasn't the dry old sock that people
think he is, only because he's so remote to us.
Q: Vladimir Chertkov (Paul Giamatti) wants him to leave his
work and property to the Russian people. His wife Sofya (Helen Mirren)
wants him to leave it to his family. How much in conflict was Tolstoy
between his ideals and his real life?
A: Was he in conflict? I think he lived his ideals. I think his
beliefs were heartfelt. I don't think there was anything wrong with him
espousing those beliefs and also posing in a photograph with his
children. Why the hell not? I know some people thought he was a
hypocrite, but he was bigger than that. He was being manipulated, but
he could pretend that he was not being manipulated, and just carry on,
just as he would have. He doesn't care at that stage.
Q: What was working with Helen Mirren like?
A: Helen and I didn't rehearse, because we didn't have time. But
that was all easy and fun. Helen and I both know that if you aren't
having fun, you should get the hell out. She's one of the sexiest
leading ladies I've ever had, and she's just extraordinary. We just
rolled around the floor laughing. But she's lasted through thick and
thin, just as I have. I've never been out of work, since I was a kid.
Q: Why do you suppose that is?
A: I'm lucky. I've had amazing luck. I suppose on the screen, things changed for me when I played Mike Wallace [in The Insider]. It wasn't a huge role, but it was a fascinating role, and that was an important movie. And then the scripts got better.
I grew up in Quebec, and Montreal got all the French movies,
because of the relationship with France, and I watched them all. Those
were terrific influences, more than the English-speaking actors. Our
own homegrown films were mostly porno, actually. They started with
porno films in order to raise the money to do good work, and I thought
that was a wonderful way to do it. I thought, "Why don't we just stay
with porno?"
Q: Then there would be no
Oscar talk!
You were in four movie this year that could be nominated for Oscars. Is that overwhelming?
A: It's not overwhelming, it's work! And it's fun work, actually. I enjoyed all those films. I had fun with each one. Doing Up and 9 was like doing radio again. Up
was a knockout, but I can say that because I'm just a voice. As to
Oscar, we don't talk about that, because if we do, there's no point in
going on.
Read More