Paul Hogan and Madonna Make Movie History With the Weirdest Golden Globes Ever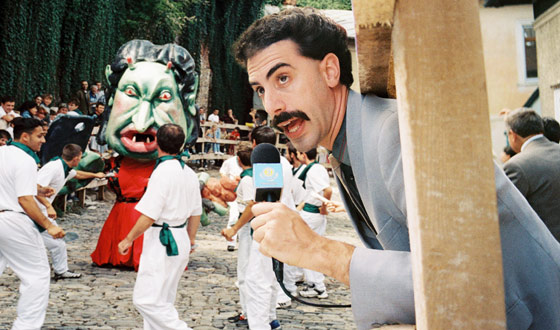 Ah, the Golden Globes, the drunken, unpredictable uncle to the sober, solemn Oscars. The awards are happening this weekend and, as always, there are a couple "what the heck?" nominees out there. Avatar (2009) for Best Picture? Sandra Bullock for Best Actress? In two categories? While Oscars voters might scoff at such inanity, it's par for course at the Globes. What follows are, in chronological order, some of the more memorable, quirkiest and strangest Golden Globe winners over the last 25 years.

Paul Hogan Wins 1987 Best Actor for Crocodile Dundee
Hogan is as good a place to start as any. It seems shocking that his admittedly funny, yet incredibly stupid, breakthrough comedy could have been awarded anything, save the honor of inspiring two decades of stereotype-driven Foster's ads. But history is history and that Paul Hogan was named the Best Actor in any comedy for the year will continue to sound progressively weirder with each passing year.

Jodie Foster, Sigourney Weaver and Shirley MacLaine all Win 1989 Best Actress in a Drama
In another stunning case of unconventional thinking, three of the five nominees for Best Actress won the award this year. What is this? Little League? Foster won for The Accused (1988), McClaine for Madame Sousatzka (1989) and Weaver for Gorillas in the Mist (1988). One has to wonder why the other two nominees (Meryl Streep and Christine Lahti) weren't thrown in for good measure as well.

Green Card Wins the 1991 Best Comedy or Musical and Best Actor for Gérard Depardieu
Green Card is the sole member of the 1990 nominees that nobody remembers. These days, its legacy is that of a movie that shows up on television once every couple years and causes you to think, What ever happened to Andie McDowell? Hey Hollywood Foreign Press — this was better than Pretty Woman or Home Alone? Surely not!

Jamie Lee Curtis Wins 1995 Best Actress for True Lies
It's hard to believe that anyone in an Arnold Schwarzenegger flick has ever gotten an award for anything, let alone acting. To be fair, this action flick's actually kind of well-acted … for a movie that co-stars Schwarzenegger and Tom Arnold. Maybe Curtis' striptease brought back fond memories of her nude scenes in Trading Places (1983) amongst the voters? More likely we can just chalk this up to more Golden Globe quirkiness.

Evita Wins 1997 Best Comedy or Musical and Best Actress for Madonna
Defenders of Evita's wins for Best Comedy/Musical and Actress will point to the fact that the movie was nominated for five Oscars. But those were in the categories for Music, Sound, and so forth: No mentions of Madonna's "acting" skills. Normally, you won't see the stuffy Oscars defended here, but any award committee that fell in love with Madonna's performance as Evita deserves your disdain.

Toy Story Wins 2000 Best Comedy or Musical
Toy Story 2 is by no means a bad movie. It's actually good! The beef here is that it seems very strange that the worst of the always excellent Pixar movies would win this award over Being John Malcovich (1999) and Man on the Moon (1999) when the vastly superior Finding Nemo
(2003) and Monsters, Inc. (2001) weren't even nominated. Both of those movies were better and did better at the box office, so you can't argue they were catering to the masses. Another mystery from the Golden Globe vault.

Sacha Baron Cohen Wins 2007 Best Actor for Borat
It's hard to say what to make of this award. Cohen is acting, albeit in a unorthodox sense of the word (he's doing so, but no one else in the movie is). It's strange to think that a respectable award show gave the idea of exploiting the ignorant and stupid and some pretty cavalier bigotry two very enthusiastic thumbs up, isn't it? But the movie was hip, young, and practically engineered to bring attention to the Globes, so there you go.
Read More