Now or Then – Legion (2010) or Dogma (1999)?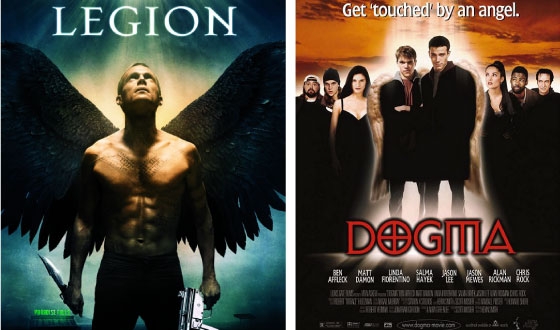 Legion (2010) or Dogma (1999)?" width="560″/>
Now: Legion (2010)Then: Dogma (1999)


The silly action-drama Legion stars Paul Bettany as a fallen angel who's desperate to save the world despite the loss of faith of his old boss (a.k.a. God). Naturally, things get freaky for the humans once they've figured out Armageddon is imminent. Yet strangely, it's hard not to think of Kevin Smith's comedic Dogma, in which a pair of fallen angels (Ben Affleck and Matt Damon) have an action-packed vacation on Earth. Because aside from the genre differences, these two movies have stories so ridiculously similar that you'll wonder whether Legion's masterminds weren't inspired by a spoof. Think about it…
Mankind in Peril!
Legion: God has grown disgusted with his once-favored creation and has decided to bring extinction to the human race.
Dogma: A number of earthly and supernatural circumstances come together in such a way that if the forces at work aren't stopped, the non-existence of God will be proven, and mankind will cease to exist.
God's Agents on Earth
Legion: Michael (Paul Bettany) is a fallen angel whose unwavering faith in and desire to save humanity puts him at odds with the commands of his maker, who sends the unflinching Gabriel (Kevin Durand) to set things straight.
Dogma: Bartleby (Ben Affleck) and Loki (Matt Damon) are a pair of fallen angels whose desperation to get back into heaven puts them at odds with other agents of God, such as the thirteenth apostle Rufus (Chris Rock) and Serendipity (Salma Hayek).
An Unlikely Mary
Legion: Cigarette-loving, baby-hating waitress Charlie (Adrianne Palicki) is carrying an illegitimate child. Naturally, she must be safeguarded at all costs.
Dogma: Booze-loving, faithless abortion-clinic worker Bethany (Linda Fiorentino) discovers that she's the last remaining descendent of Jesus Christ, and then has a child via immaculate conception. Naturally, she must be safeguarded at all costs.
The (Painful) Voice of God
Legion: Though God is never seen, he makes his presence known via the ear-splitting fog horns that precede attacks by his minions.
Dogma: Once God (Alanis Morissette) is released from the comatose body in which she's been trapped, she unleashes an ear-splitting cacophony so intense it kills Bartleby on contact.
Don't forget to vote in the Now or Then poll above, or leave your thoughts in the comments below!
Read More