Need Advice on How to Get Laid? Eight Big-Screen Virgins Show How It's Done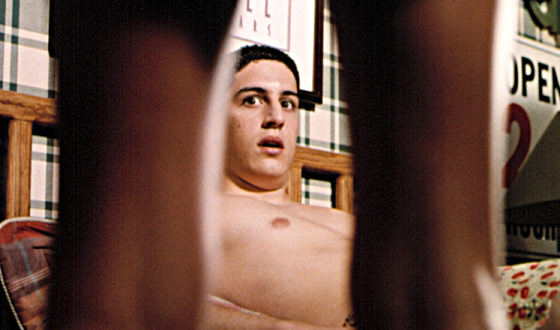 Is there a more valiant cinematic undertaking than that of a young man trying to lose his virginity? Many have tried and failed, and some have gone to great lengths to fake proof of that great event (Anthony Michael Hall in Sixteen Candles, anyone?). Regardless of success rate, we'd like to salute those who put in the most effort to get laid that very first time — both in celebration and also to provide a helpful guide for future generations of sex-crazed youths on achieving that most seminal of life's milestones.

Nick Twisp (Michael Cera), Youth in Revolt (2010)
Method: Imagination
As Nick Twisp (Michael Cera) notes, "In movies it's usually the good guy who gets the girl. In real life it's usually the prick." So Twisp creates a suave alter-ego who is more than willing to say all the things his wussy real self can't. Girls love a bad boy willing to fight for them, even if it means committing an act of arson or two. Nothing spells turn-on like an outlaw!

Ian (Josh Zuckerman), Sex Drive (2008)
Method: Going the Distance
When you're a virgin high school grad like Ian (Josh Zuckerman) and your intended is a cougar named Ms. Tasty living thousands of miles away, the only appropriate thing to do is hit the road. While it's actually Ian's good friend (Amanda Crew) who ends up rescuing him from virginity, the titular drive does in fact culminate with sex. And that's not including the freaky Amish encounters along the way…

Andy Stitzer (Steve Carrell), The 40 Year Old Virgin (2005)
Method: Patience
When persistence fails, sometimes a little patience is all it
takes! Or more than a little in the case of Steve
Carrell's middle-aged newbie. Whether it's a stubborn bra clasp, a kick in the
face, or a drunk chick vomiting into your mouth that
aborts your mission, you just have to persevere. As Andy
comes to realize, he wasn't meant to lose his virginity with all those other women: He was just waiting for the right one. Aw.

Jim (Jason Biggs), American Pie (1999)
Method: Persistence
Excluding home-baked pies, poor Jim finds
it extremely difficult to find anyone to have sex with. Luckily for
Jim, exchange student Nadia can't resist his charms.
Alas, he's a little over-eager, and it doesn't go well the
first time. Or the second time. The real thing finally ends up
happening with his prom date. She may make him wear two condoms to slow things down, but hey, the ends justify the means!

Kenny (Seth Green), Can't Hardly Wait (1998)
Method: Proximity
Sometimes the key to losing your virginity is putting yourself in a
situation where the girl just can't escape — like
accidentally locking yourselves in a bathroom, along with your backpack
"love kit" filled with condoms, candles,
and everything else a guy could need to set the mood for sexy-time. Denise (Lauren Ambrose) may not be the girl Kenny wanted, but she's just what he needs.

Gary (Lawrence Monoson), The Last American Virgin (1982)
Method: Teamwork
This flick may be one of the few coming-of-age movies without a "happy ending," but it's an unmissable entry in the sex-quest canon. Exploits include a memorable scene
involving fake cocaine, and a game of sexual musical
chairs involving two pretty girls and their less hot friend. In the
end, two of the buddies consummate with the same woman, but
our hero Gary is left in the lurch.

Pee Wee (Dan Monahan), Porky's (1982)
Method: Assistance
What to do when you can't get a girl on your own? Call on your friends! Pee Wee's friends spend the entire pic trying to get him laid — they even destroy the titular strip club when
Porky doesn't allow Pee Wee to sleep with one of his girls. Turns
out this is just the kind of behavior that convinces a sexy
classmate to cure Pee Wee of being "so cherry you could put [him] on
top of a banana split."

Larry (Tim Hulce), Animal House (1978)
Method: Creativity
It's hard not to admire the ingenuity that would lead a man to read the obits so he can seduce a dead girl's roommate. To his credit, Otter's (Tim
Matheson) ruse works perfectly… just not for virgin Larry. No, Larry meets a girl on his own, only to discover she's engaged in some
"creative storytelling" of her own in order to lose her virginity — she's only 13 years old! A cautionary tale, this…

Read More